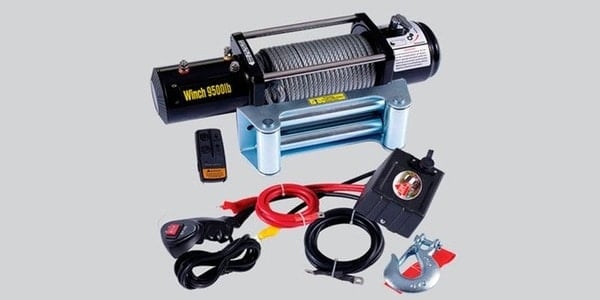 Choosing the right winch can be a daunting task as there are a lot of options out there.
At this point, I've stated some important factors that you need to consider to pick the best one.
Make sure you have considered all the factors when you choose a winch.
You can also read:
Factors To Consider
1. Winch Capacity
The first and foremost factor to consider is the winch manufacturer's line pull rating. Line pull rating is the combination of the tensile strength of the drum line and the mechanical capacity of the winch.
How much pull is enough? You can easily figure out the minimum line pull rating by taking the gross vehicle weight (GVW) and multiply it by 1.5.
Best winch rating>= GVWR X 1.5
If your vehicle weighs 4000 lbs, then you should go for one that has at least 6000 lbs capacity.
If you're still in confusion, then go for a winch with more capacity. The higher the winch capacity, the better it will be. Larger capacity winches generally have larger motors and line spools.
2. Types Of Winch
Winches are powered in two different ways. Electric winches are the most common ones. They get power from the vehicle battery and electrical system. On the other hand, Hydraulic winches are powered by the vehicle power steering pump.
Electrical winches are widely used winch. They are easier to install and typically have larger winding speed. They also come with a remote control feature. So, you can stand safely away from the vehicle and winch during recovery.
Electrical winches draw a lot of power from your vehicle's electrical system. So, you have to ensure that the vehicle has enough power to operate it. Electric winches can overheat if they're used for a longer period. If you plan to use your winch all day long, then you should go for hydraulic winches. Otherwise, electric winches are a good choice.
Hydraulic winches are more reliable and not affected by low battery power or water. That's why they're very common in the areas with lots of water or mud. With a hydraulic winch, you can continue winching all day as long as the engine is running. But hydraulic winch requires extra hydraulic lines and plumbing. So, not all hydraulic winches fit on every vehicle or mounting application.
There are some other types of winches available such as hand winches, capstan winches, chainsaw winches, portable winches, boat trailer winches etc.
3. Winch Rope
When it comes to winch rope, you have two options, synthetic rope or steel cable.
Steel cable: Steel Cable is usually a long-lasting, durable product and very easy to maintain. They're perfect for use in highly abrasive terrains. This winch rope will be a better option for you if you often go off-roading through mud sand and rocks. However, steel cable will fray, corrode and sometimes break. You have to wear hand gloves while handling the rope.
Synthetic Rope: This type of rope is flexible, lighter, stronger and easier to handle than the steel rope. They are a better option for recovery and trail winches. One of the downsides of synthetic rope is that they are very susceptible to UV exposure, chemicals, heat and abrasion and chemicals. It's also more expensive than a steel cable.
4. Winch Motors
Electric winches come with two types of DC motors. They're permanent magnet motors and series-wound motors.
Series Wound Motors: This type of motor use field coils to generate the magnetic field. They're very powerful and expensive too. For heavy-duty and cold weather use, the series wound motor is a good choice.
Permanent Magnet Motors: They're good for light to medium duty works. They're less expensive than the series wound motors. While using permanent magnet motor winch, you should take count winching time and load. Because they're less tolerant of heat. They can lose power in extremely cold weather.
5. Winch Drivetrains
When it comes to a winch, there are three gear options, spun gear, worm gear, and planetary gear.
Planetary Gear: This is the most commonly used gear train. They have some clear benefits such as low weight, compact size, and low cost. When it comes to drivetrain friction and amp draw, they're in the middle position between the worm gear and the spun gear. Nowadays, most winches come with planetary gear. They use a brake inside the drum center. When spooling out under load, it can get very hot.
Worm Gear: This type of gear is not as strong as the planetary gear. Worm gear winches are slower than spun gear and planetary gear winches.
Spun Gear: They're one of the most cost-effective gear types. They have a power transfer efficiency of 75%. The legendary Warn 8274-50 is the only winch that comes with spun gear, still on the market.
6. Winch Remote Control
Remote control system allows you to control the winch direction from a safe distance. There are two types of remote: corded and cordless. While choosing a winch, make sure if it comes with any remote control system. It's better if the winch offers wireless remote control.
7. Winch Mounting Options
The mounting location of the winch is another important consideration. Before choosing a winch, you need to find out how you're going to mount your winch to the rig.
There is three popular systems that you can mount your winch. They are: Bumper mount, Multi-Mount and winch bumper.
Bumper Mount: The first and simplest option is the bumper mount. They're very easy to install and provides excellent versatility.
Multi-Mount: This mounting system is a little more complex than the bumper mount. They're typically less durable because of the mounting point.
Winch Bumper: This mounting system is becoming popular among real off-roaders. This bumper looks like really part of the vehicle. I have also reviewed some top-notch jeep winch bumper. Read this if you ever plan to buy one.
8. Cable Length
While choosing your winch, consider the cable length. Most of the winches come with 80-100 ft of cable on average. I suggest you not to choose too short or too long cable. If you become confused, you can ask the seller to help you pick the correct cable size.
9. Waterproofing
Your winch will face a lot of harsh elements. You should go for a winch that comes with a rated or sealed waterproof motor housing. It will be better if you can choose the same on gear trains.
10. What Brand Should You Choose?
There are a lot of winch brands available in the market. Here are some of the top winch brand that I reviewed separately.
If you don't have enough budget to buy a new winch, then you can go for a used winch. Also, read this best winch battery guide.