Finding the perfect electric winch within your budget can be quite overwhelming.
I understand that.
Even if you decide on the weight capacity for towing your vehicle or utilities, you may not know which one will be the most cost-effective winch for you.
To clear the air, and assist you in finding the best winch for the money, I've prepared this guide where I reviewed 10 top-notch winches. Checked so many winch models but only the best 10 could make it into my list!
Needless to say, all of them are quite cost-effective yet high quality.
Here are some core parameters that I considered before putting any winch on my list –
If it's one of the best bets for the money or not.
The winch's weight load capacity and application.
If the winch is well-accepted among other off-roaders or not.
If the winch offers smooth winching experience without causing any major trouble or not.
Durability of the winch and many more.
So, let's begin.
Top 10 Best Winch for the Money Review
If you don't know what pulling capacity you will need, multiply your vehicle's gross weight by 1.5 to get the ideal pulling power for your vehicle. Ex: To pull a 8,000 lbs Jeep, your winch capacity should be minimum 12,000 lbs. Check the buying guide below for more on this.

Gross Vehicle Weight= Vehicle + Passangers + Baggages Weight
10. Rugcel 2000 lbs (49 ft)
Pros
This winch is compact in size, lightweight, and easy to install.
An easy to grip remote with a big button, and substantially long wire comes with the kit that works as expected.
The pull and turn free spooling clutch knob is convenient to use, and it works without any hiccups.
An ample length of galvanized aircraft cable is in-placed that goes through a quality roller fairlead. It performs notably smooth.
This winch doesn't make excessive noise, and it's a low-amp motor.
The hook is blue-white zinc plated, which is more durable, and environment-friendly compared to other color zinc plated hooks.
It's inexpensive.
It features a detailed instruction manual.
Cons
A handlebar rocker switch or a dashboard rocker switch with the package would have been an all-in-all solution for the UTV/ATV users.
This is an ideal winch for using with UTV/ATVs. It's one of the best winches for the money on my list for light-duty jobs.
Nonetheless, it's not limited to only UTV/ATV use. You can use it with a car, boat, modified vehicle, or as a multipurpose utility trailer as long as you keep the weight of the towing object up to 2000 lbs (better if you can restrict the weight to 1333 lbs to get the best result).
Altogether, this is a quite handy, versatile winch at a reasonable price.
You'll need some additional accessories while winching. Check my winch accessories guide, these accessories will surely make pulling process much easier, safer and faster.
9. Champion 3000 lbs (45 ft)
Pros
It's straightforward to install.
The wired remote (10') buttons are relatively big to press effortlessly wearing gloves.
A 45' heavy-duty aircraft cable is there that goes through a high-quality 4-way roller fairlead quite smoothly.
A 3-stage planetary gear train, dynamic braking, and a free spooling clutch are there to ensure easy controlling and increased safety during the operation.
The package includes an abundantly clear user manual.
This winch is reasonably priced.
Cons
The size of the remote is not too convenient for handlebar mounting.
I expect a dashboard rocker switch for any UTV/ATV specialized winch.
The hook is color zinc plated, but a Blue-white zinc plated hook is more environmentally friendly and durable.
Champion is a reputed brand for manufacturing high-end winches at a lower price. This performance of this 3000 lbs electric winch reflects that too.
This winch is a compelling option for towing UTV/ATV, and it's a 3000 lbs load capacity winch.
With that said, you can use this winch for towing various other objects like logs, cars, jeeps, trucks keeping the gross weight of the object up to 2000 lbs (1.5 times less than the weight capacity).
This winch can be an excellent replacement for any expensive winch like Warn winch.
8. Bravex 3500 lbs (40 ft)
Pros
This winch features considerably faster line speed compared to its competitors.
A well functioning wireless remote is also included with the kit along with a quality handlebar rocker switch.
Installing this winch is quite easy, including wiring. Kudos to the clearly written instruction.
A high-quality steel winch cable (40 ft) offers a smooth winching experience.
The free spooling clutch, the differential planetary gear system, and the automatic in-drum brake give you all it requires to control the winching effortlessly.
It's a compact winch and not too heavy.
It offers a competitive price.
Cons
This winch sounds a bit louder than usual.
The cable seems a tad rigid.
This winch is another great alternative for other costly winches.
It's a 3500 lbs winch, so quite suitable for towing UTV/ATVs, trucks, cars, jeeps, log, trailer, etc.
As this is a 3500 lbs pulling capacity winch, therefore, you will want to keep the gross weight of the vehicle up to 2333 lbs.
Overall, this 3500lbs electric winch is a powerful, well-built, versatile option that won't break your bank.
7. AC-DK 4500 lbs (50 ft)
Pros
You are getting several handy accessories, including gloves, rope stopper etc included in the package.
A useful handlebar mount switch and a wireless remote come with the kit. Both these work flawlessly and fit well in hand.
It's super compact and lightweight.
The unit doesn't overheat as it has an onboard winch motor cooler.
This electric winch is straightforward to install too, and it comes with everything you require to install the unit, including a mounting bracket (3"x4.8").
They offer both steel winch cable and synthetic rope version. Basically everything is the same, you just get to pick which type of winch cable you want.
A substantially long (50 ft) rope goes through a quality hawse fairlead sleekly.
It features a 3 stage planetary gear system, free spooling clutch, and automatic load-holding brake like other useful winches.
This winch is inexpensive compared to its competitors of the same weight capacity.
Cons
I miss a dashboard rocker switch with the package. Nevertheless, I'm quite happy with the other accessories at this price.
Perhaps you are not familiar with this brand. But don't fool yourself by considering this as a junk. I did my research before adding this to my list.
In fact, it fulfills almost every need by offering some useful accessories for free.
This particular winch is a 4500 lbs capacity winch and suitable for all sorts of object towing. However, don't exceed the gross weight of the towing object over 3000 lbs to get the best output.
As this one also has a synthetic rope version, so don't worry about lightweightness at all. The cable version is a bit heavier than rope version.
6. ZEAK 5500 lbs (50 ft)
Pros
Surprisingly inexpensive considering the weight capacity.
The remote is extensive, and the wire length of the remote is also ample long (50'), which helps to control the winching keeping a reasonable distance.
It's IP 68 rated. That means it withstands against dust and submersion up to 1.5m underwater up to 30 minutes.
Al weather sealed solenoid is included in the kit, and it's circuit breaker protected.
The length of the high-quality steel winch cable is also 50'.
This unit is composed of a pull-and-turn free spooling clutch, a 3 stage planetary gear system, and a dynamic brake for smooth winching experience and increased safety.
It comes with every nut and bolt, including a mounting plate (3" * 6.6") to make your life easy installing this unit.
Cons
Had it been a bit more compact in size, it would have been a better fit for UTV/ATVs.
This 5500 lbs weight capacity winch is a perfect option for pulling anything that weighs up to 5500 lbs (ideal if the weight is up to 3666 lbs).
That means, it's quite a good winch for using with heavy UTV/ATVs, car, jeep, plow, trucks, trailers, logs, and other utilities, etc.
So, no doubt, this is another multipurpose and quite an affordable winch on my list that excels in power and performance too.
5. Viper 8500 lbs
Pros
It features integrated weather sealed solenoid with circuit breaker protection. As the solenoid is weather-sealed, so it's safe from outside materials.
This winch comes with two remote controls. One is wireless, and the other one is corded. Both are error-free and easy to grip and operate.
It's waterproof.
Installing this winch is quite simple.
They offer this winch with both cable and rope version.
94' heavy-duty steel winch cable/85′ Synthetic rope is in place that performs as expected during the operation. You won't see any tangling, I believe.
It's reasonably priced.
Cons
A winch cover and a mounting plate with the kit would have been a handy inclusion.
It comes with a hawse fairlead for both the cable and rope versions. I like to have a roller fairlead with the cable.
As this is an 8500 lbs capacity winch, so it's a perfect tool for towing anything up to 5666 lbs.
The remote works within 50' range, which is good enough to control the winching from a good distance. The corded remote has a 15' long cable, which I believe is also substantially long for winching from a safe distance.
This winch features other basic yet necessary attributes like free spooling clutch, 3-stage planetary gear system, and automatic load-holding brake.
Overall, this is a dependable winch for towing anything like truck, jeep, car, boat, or any other objects like logs, trailers, etc. You'll have the option to buy either Steel cable or Synthetic rope version for this winch.
Also Read: Top rated truck winch reviews
4. Smittybilt 97495 XRC 9500 lbs (94 ft)
Pros
You have three points for mounting the solenoid.
A flawlessly working wired (12') remote comes with the package that is quite big to grip and operate it effortlessly.
It's IP67 rated. That means it's waterproof, and safe from other materials like mud, snow, sand, etc.
Easy installation process. Wiring is easy-peasy because of the color-coded wires and wiring diagram.
The package includes everything you require for the installation process.
Heavy duty build quality. I know a lot of offroaders who are satisfied with the durability of the unit. It's too early for me to conclude, though.
A 94' high-quality steel winch cable that goes through a quality roller fairlead does its job accurately.
It has an easy to use sliding ring gear free spooling clutch, and 3 stage planetary gear train for smooth winching, and automatic in-drum brake for better safety.
I really like the stylish look of this model. Looks damn cool on any vehicle.
Cons
No wireless remote control comes with the kit.
This powerful winch is one of the most widely used winches out there. It's a 9500 lbs capacity winch. Meaning, to get the best result, you should keep the towing weight up to 6333 lbs.
As a whole, this is a powerful and durable quality winch that you can get at a reasonable price. Moreover, you can buy this winch with a winch cradle, spending a little more money from here. Perfect for jeep/truck and other 4×4 vehicles.
By the way this model has 3 more capacity option: 12000 lb, 15500 lb, 17500 lb. Similar features just the pulling capacity is different.
3. Tungsten 12000 lbs (73 ft)
Pros
IP67 rated winch. Meaning it's waterproof, and safe from some other outside materials like mud, sand, snow, etc.
It comes with a wireless remote and a corded remote (10'). Both of these work perfectly.
The free spooling experience is noticeably smooth using this winch.
The control box is extra thick that genuinely makes it impact resistance. Furthermore, it protects the solenoid from outside material quite well.
It doesn't weigh too much considering the weight capacity. Glory to the high-quality 73' synthetic rope that makes this unit lightweight and performs as expected.
Easy installation. Great pricing.
You can replace the rope with a stainless steel cable (if you want it) without any issue whatsoever.
Cons
The corded remote is a bit flimsy.
The length of the rope could have been much longer.
This is one of the best winches for the money on my list. As it's a powerful 12000 lbs winch, so it can withstand against any medium to heavy-duty jobs like pulling a big truck, jeep, car, or other 4×4 vehicles.
However, you will want to keep the gross weight of the towing object up to 8000 lbs to get the optimum results.
All in all, this is a cost-effective winch that can be a suitable replacement for any pricey winch.
Pros
This winch is also water, mud, sand and snow proof (IP67 rated).
It comes with both wired & wireless remote. The corded remote is quite convenient to grip and operate even after wearing gloves.
The new generation remote control works great within 98' range.
It features a weather-sealed control box that keeps the solenoid free from outside materials. The control box is relocatable too.
Powerful winch motor.
An overload protector is installed into the unit to break off the power supply in the event of an overload or short circuit.
A dust cover comes with the kit. So, you don't have to spend extra bucks for the protection of your winch.
Great value for the money. It's quite inexpensive than other winches of same weight capacity.
Cons
It's a bit louder than expected.
The instruction manual lacks in providing proper pictorial instruction.
Like other winches on my list, this winch is another powerful winch that won't disappoint with its performance.
You will get a great value for the money from this powerful winch. It's a 13000 lbs weight load capacity winch. Therefore, you can use it for any heavy-duty jobs. To get the best performance and for the sake of longevity, you better keep the gross weight of your vehicle up to 8666 lbs.
It's one of the best winch at its price range. If you need a powerful high-quality winch at a low cost, you can pick this one over a pricey Warn winch any day. You won't be disappointed for sure.
Altogether, it's a handy winch for using with your heavy truck, jeep, car, pulling heavy objects, or trailer.
1. Smittybilt X2O 17500 lbs (98.5 ft)
Pros
It's IP68 rated. Meaning, it's submersible.
I like the remote control feature of this winch most. The wireless remote controlling system is integrated to wired (12') remote. So, you can use the same remote for both purposes.
It's compact, considering the weight capacity of the unit.
Very powerful 6.6 hp winch motor.
A remote plug cover is there to protect the remote plug.
This winch features a wire isolator for better management of the wires.
A 500amp covered solenoid box is there that is safe from outside materials, including water.
The 98.5' stainless steel cable proves to be a substantially long and quality option for heavy-duty jobs.
The price is quite reasonable.
Cons
It weighs a bit more than I expected.
A winch cover with the winch kit could have been a useful addition.
Like other winches of this brand, this particular winch for the legacy brand Smittybilt also provides excellent value for the money. This 175000 lbs powerful winch is a perfect tool for safely towing anything as long as you keep the weight of the towing object up to 11666 lbs.
I must praise the price that this winch offers for 17500 lbs of weight pulling capacity. The performance is excellent too. No doubt, this is a perfect replacement for those pricey winches, mainly if you are on a budget.
This one can easily pull heavy jeep, truck and other 4×4 vehicles. Durable, powerful, latest technology; undoubtedly one of the best 4×4 winch for the money. And their warranty policy is one of the strongest warranties available in the off-road industry.
By the way, this winch model has 3 more capacity options too: 10k lbs, 12k lbs, 15.5k lbs. Almost same features just the capacity changed.
Verdict
As I said, the main objective of making this review guide was to help you find the best budget winch based on your needs.
I'm sure I've already cleared the air, and you have already decided which one you will buy.
Despite a few minor hiccups, I still believe all of the above winches I mentioned are the best budget options on the market right now.
If you think I may have missed a better model, or I should change something, or you have any questions you want to ask me, feel free to leave a comment below. I will try my best to reply ASAP.
Winch Buying Guide
There are some basic things you should know before you buy a winch. Make sure to read these if you are buying the first time.
1. Types of Winches
There are mainly three different types of winches: electric winch, hydraulic winch and manual hand winch.
Electric winches are most common, widely used and easier to install. They are also cheaper than hydraulic winches. But if you use an electric winch for a long time, they will overheat.
On the other hand, hydraulic winches are capable of pulling larger weight capacities. They can run for a long time without overheating. They also have a longer lifetime. But they are very expensive and hard to install.
Hand winch requires manual labor. Mostly used to pull lightweight stuff.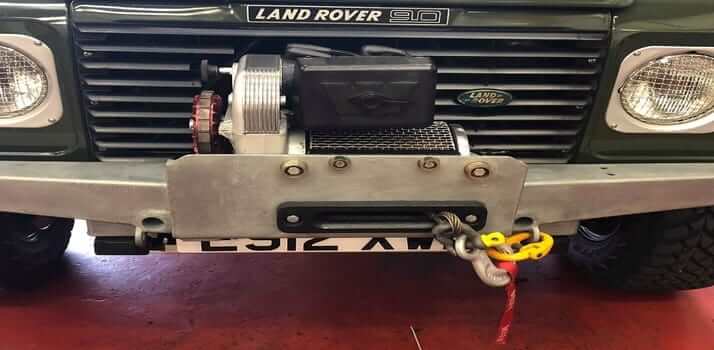 2. Types of Ropes
Winch rope has a big impact on the performance of the winch. While the case is synthetic rope vs steel cable, there is a hot debate among offroaders. Both ropes have their upsides and downsides. Read on to get a clear idea about these two rope types. I hope you'll be able to choose the right rope type for your job.
This cable has been around the industry for a very long time. It is highly durable, long-lasting, resistant to the sun and requires less maintenance. If you will be often using your winch in highly abrasive terrains, then choosing stainless steel wire/cable is a better decision.
You have to use a glove while handling the cable. But if the cable breaks during operation, it can create a very dangerous situation. So, you should always inspect the cable before using it. Never use a damaged rope. It is also very harder to fix a cable if it breaks.
This rope is gaining popularity day by day. It is lightweight, flexible, floats in water, easier to handle and doesn't store energy. It is also comparatively much safer than the steel wire rope.
This rope has some downsides too. It is expensive, requires extra UV protection and maintenance. Though it has very high breaking strength, it can breaks. But you'll be able to repair it in the field easily.
To summarize: Steel wire cable is cheaper, much durable but less safe than Synthetic rope. And, Synthetic ropes are much stronger, safer, lightweight but it's pricey. Pick one you like. I prefer Synthetic rope because it's much safer and simpler to use.
Here I've attached a video of someone replacing the steel wire rope with synthetic ropes:
3. Pulling Power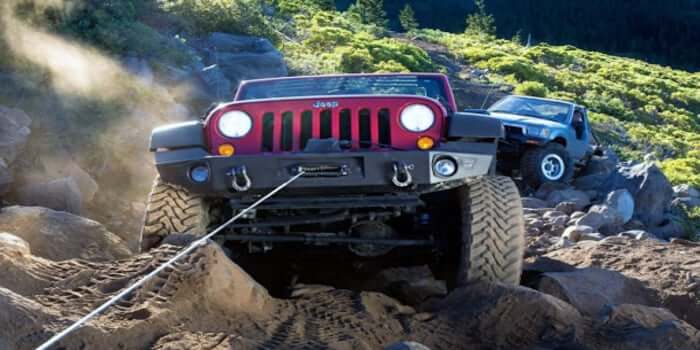 You can not use a winch for pulling a Jeep that is made for pulling ATV at best. You have to pick the right pulling capacity winch for your vehicle.
Using a winch for pulling loads that are higher than its pulling capacity often causes accidents. So, when choosing a winch, it's better to spend the extra bucks and purchasing a winch with higher pulling capacity. 12,000 lb is a popular pull rating. This is enough for pulling heavy vehicles.
The higher the pulling capacity of the winch, the better performance you can expect from it in any situation.
Want to know how much pulling capacity you need for your vehicle? Well, multiply your vehicle's gross weight by 1.5 to get the ideal pulling power for your vehicle.
By the way if you don't know your vehicle's weight, you can search the model weight on the web.
4. Motor Type
In terms of motor, you have two options. Permanent magnet and series-wound motors. If you think, you will rarely be stuck in extreme terrain, you can go for a permanent magnet motor. They are less costly compared to series wound motors.
On the other hand, if you often stuck in extreme terrain, the series-wound motor is a better choice. They are more durable and practical. They generally produce 10-15% more amps than permanent magnet motors.
5. Line Speed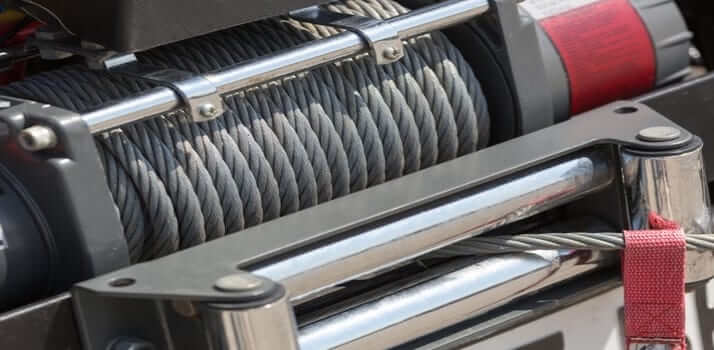 Line speed means how fast the winch is able to retrieve the rope. A good quality recovery winch should have the ability to retrieve a rope at a rate of 2-5 feet per minute. If you want to pull quickly, then consider the line speed.
6. Remote Control
This is a useful feature. This will allow you to control the winch from a safe distance or inside your vehicle. It will be better if the winch comes with wireless one.
7. Waterproof
You will often need to use the recovery winch in the rain as well. So, its important to get a waterproof winch. This will protect your winch from water damage and make it long-lasting.
8. Winch Brands
It's very difficult to select the right winch brands as there a lot of companies that produce winches.
However, I'm going to introduce you to some leading brands of winches that offers high quality winches. Some of these brands are Warn winch, Smittybilt, Badland, X Bull, Superwinch, Ramsey and Mile Marker etc. They are highly trusted in the offroad community.
9. Warranty
In my experience, Winches from some renowned brands usually comes with an at least 1-year warranty. It can be difficult to find the spare parts for the winch. So, its good to get a winch that comes with a warranty.
Final Words
I hope this top winch for the money review helped you to make the right decision. I've also separately reviewed high-quality winches from different brands. You can check those in the review section.
Also, check the blog section if you need more information about winching and offroading. Till next time, Adios.