Having a winch for your boat is probably one of the best investments you can make, at least in terms of convenience. That can be said whether you use the winch either for anchoring your boat or for pulling it out of the water and onto your boat trailer.
Just having a winch itself is very useful in any boating expedition. But to make it even more useful, yiu can invest in quality winch accessories. Good winch accessories maximize the utility of your boat winch. Such accessories include hooks, better quality ropes, a sturdy and stable winch mounting plate (if applicable), or a high caliber boat winch strap.
What is a Boat Winch Strap
A boat winch strap is perhaps one of the most, if not the most, underrated or unappreciated boat winch accessory. But if you are someone who works on a dock and needs to get on and off your watercraft all the time, you lrobably need a strong and durable boat winch strap.
A boat winch strap serves two critical purposes: it keeps the boat near the shore and steady even in the water. It keeps your boat securely hooked to the seaboard.
At first glance, a boat winch strap may not seem tl look like much on its own. But once you experience its convenience first hand, you might find it a crotical piece of equipment.
The Best Winch Strap
Whether you are a seasoned boater or a beginner, you should only use the best equipment to ensure maximum safety and enjoyment in your boating adventures. This goes for all pieces and equipment, from boat to anchor and of course, the boat winch strap.
Here are our top 5 picks for the best boat winch strap.
Rugcel LT2000 Electric Winch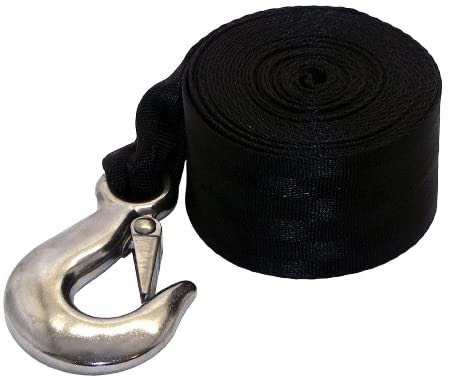 This boat winch strap comes with a handy hook and minimum price. As far as boat winch straps go, this model is as simple to use as can be. It works great for its price point. It is definitely a worthy purchase.
The strap features a loop on the inside. This loop makes it easy to attach it to your boat winch. The handy hook is solidly plated. It is tough, strong and safe. It is equipped with a spring loaded safety flap.
The Shoreline Marine boat winch strap combines affordability and handiness very well. Seasoned boaters will appreciate its high value and low costs. Less experienced boaters will love its effortlessly convenient features and appealing simplicity.
Pros 

Cons

Easy to adjust

Reliably sturdy

Comes with a pre-fastened utility hook

Can fit most common boat trailer winches

Comes without any bolt

Hook clip seems quite flimsy
Botepon Marine Boat Trailer Winch Strap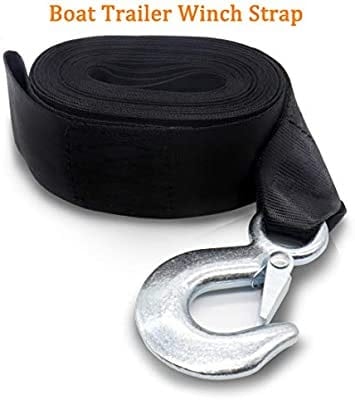 If undeniable and tested durability is what you seek from a boat winch strap, you would be satisfied with the Botepon Marine boat trailer winch strap. It is so tough that the manufacturers are confident enough to give you 2 years of warranty upon purchase.
What sets the Botepon Marine winch strap from other winch straps is its amazing tensile strength. It can withstand up to 4500 lbs before showing signs of breakage. And it has a working capacity of 2600 lbs. It is an ideal replacement for either manual or electric winch straps.
It comes with a hook that is specifically engineered to weather seawater, harsh conditions, and corrosion due to UV rays and rusting.
The greatest drawback this product has is its price. If you truly value toughness, be prepared to pay a little extra bucks.
Pros 

Cons

Backed by 2 years of warranty

Highly durable

4500 lbs breaking strength and 2600 lbs working capacity
Fulton WS020HD0600 Boat Trailer Winch Strap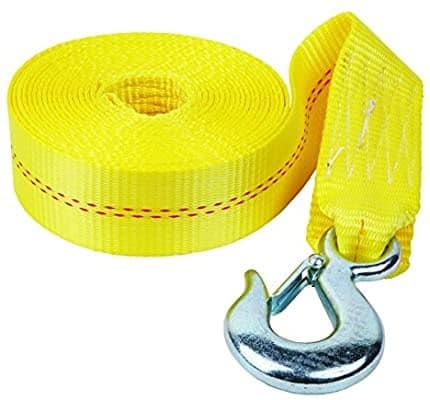 Not everyone can afford to spend buckets of cash on boat winch straps. Some need low cost options that can still provide considerably great value. The Fulton WS020HD0600 boat winch strap is as good a deal as any boater who is on a tight budget can get. Without lavishly throwing away the green, you can still get a satisfactory product out of this winch strap.
The strap is definitely heavier than most boat winch straps, which improves its toughness and integrity. It actually feels like it is meant for bigger sized boats. It is 20 feet long and 2 inches wide.
Upon very close examination, it is also thicker than your usual boat winch strap. The extra thickness may give you some trouble winding it into your winch, but it is nothing a little effort can't accomplish.
For its price, you are definitely getting a bargain with this unit. All things considered, you should not and cannot expect this to be the best. But for its price point, it is one of the best in the market.
Pros 

Cons

Backed by 5 years of warranty

Highly affordable

Equipped with a utility hook

Ideal for larger sized boat trailer winches

20 feet long and 2 inches wide

Strap becomes brittle over time

Hook os not very securely attached
Your Next Boat Winch Strap
A lot of the options you have for a winch strap are mediocre. But these four options are tried, tested and have been proven. They have their own strengths and their own weaknesses, but they are the best options out there.
Depending on your budget, you can choose any of these options. It is a guarantee that these boat winch straps will exceed expectations. They are highly reliable, cost effective, convenient, and definitely worth their costs – each in their own ways.
Tell us about your experiences with boat winch straps. What do you think of the list? Are there other boat winch straps that you think are more worthy of consideration? Comment your thoughts and opinions on the comment section below. We love hearing from you!
If this buying guide has been helpful for you, these other buying guides might also be helpful!