When it's about pulling a log in the forest or a big game after hunting, a gas powered capstan winch is undoubtedly the best solution.
You have to choose the best gas-powered capstan winch, and to do that; you need to know the different core buying factors. Right or wrong?
Let's get rid of all the hyped marketing gimmicks and know about the top gas-powered capstan winches based on practical experiences.
Don't be troubled.
I'm going to do the legwork for you by reviewing five gas-powered capstan winches mentioning all their upsides and downsides. If you re looking for an electric one, check this review.
Let's begin.
Top 5 Gas Powered Capstan Winch Review
1. PCW-5000 Gas-Powered Capstan Winch Reviews
Pros
A Multi-purpose winch. So, you can use this winch for pulling different types of items quite easily.
It's pretty straightforward to start and use.
This winch is ideal for moving heavy objects.
A lightweight winch that allows you to carry this winch around the woods quite effortlessly.
It offers good flexibility.
A heavy-duty rope comes with this unit that genuinely withstands for big jobs.
You can use this winch for an infinite length of pull. It solely depends on the length of the rope you are using.
Easy and quick anchoring.
No external power source is required as it is already equipped with a petrol-powered engine.
It comes with a thorough pictorial user manual with a DVD containing useful videos.
A polyester anchor sling comes with the package. So, you don't have to buy this separately
Worth the money.
Cons
This winch is made of aluminum. I believe a steel body lasts longer than aluminum.
The manufacturer is a famous brand in producing gas-powered capstan winches. It takes pride in dominating the winch industry since 2003.
Out of many top quality gas-powered winches produced by this brand, PCW-5000 is one of their most excellent productions, I must say.
It can pull up to 2200 lbs and using a snatch block; you can easily double up the capacity to 4400 pounds.
What about the application?
Well, you can use this winch to pull almost anything within the weight limit.
So, you can use it to get out of your vehicle from a sticky situation, to pull logs out of the woods, pulling big game through steep terrain or even pulling electrical wires through conduits, and many more.
To sum up, you can apply this winch for industrial, forestry, hunting, and any other places you want.
I found tethering this winch is as easy as pie too. You can fasten it to any solid object like a rock, post, tree, etc.
A Honda 4-stroke GXH-50cc is powering this winch up for holding out against heavy-duty jobs. I can always trust a Honda engine. I'm sure you will second my opinion.
Because of the interchangeable capstan drum, you have two options. You can opt for either more power or more speed by changing the drum.
As I said, you can use any length of double-braided polyester (DBP) rope with this winch. Eventually, you are getting an infinite range of pull.
DBP means no more wire rope. I prefer synthetic rope to wire rope, and this winch is exactly offering that.
You are not going to get the accessories with this model. You have to buy them separately. However, the next few models I'm going to talk about comes with the accessories.
Verdict
All in all, PCW-5000 is an all-rounder winch, in my opinion. It doesn't cost you a fortune either. I vote for this winch if you want to get the maximum bang for your bucks.
As it's equipped with high-quality components, I reckon it's enduring. It's too early for me to give a conclusive comment on this, though.
2. PCW5000-MK Gas-Powered Capstan Winch Reviews – Multi-purpose Kit
PCW5000-MK is the same 2200 lbs weight capacity winch.
The only difference between this one and the previous model is that this model comes with the multi-purpose kits. The MK stands for the multi-purpose kit here. Basically the same winch, this one just comes with all the necessary kits. Of course, the accessories are not free of cost.
So, if you are not sure what are the accessories you need with the PCW5000 model, then go for this PCW5000-MK.
Let me list down the accessories you are going to get with this package.
PCW5000: 1 Gas-powered capstan winch – 2200 lbs weight capacity(the previous model that I reviewed)
PCA-0340: 1 Padded waterproof case with removable rollers/casters a folding handle.
PCA-1100: 1 Capstan drum
PCA-1213M: 1 DBP rope
PCA-1256: 1 Rope bag (medium) with shoulder strap
PCA-1259: 1 Polyester sling
PCA-1261: 1 Hitch plate winch anchor
PCA-1274: 1 Stainless steel swing side snatch block
PCA-1276: 2 Steel oval locking carabiner
PCA-1281: 1 Safety hook with latch
PCA-1282: 1 Grab hook
PCA-1295: 1 Choker chain
So, as you can see, this model is nothing new, just a version with the above kits in one package, including the PCW5000 winch.
Let me give my opinion on the quality of the accessories.
You are getting a waterproof case to protect your winch while carrying. The transport case can be moved easily as it comes with casters (removable) and two handles.
The rope bag could have been better in terms of quality. But it's ok. I don't think it's a big deal as the quality is not that bad either.
All the other accessories excel in quality, too, including the synthetic rope.
3. PCW5000-HK Gas-Powered Capstan Winch Hunting Kit
Therefore, if you are a hunter and pulling the big games is a challenge for you, then choose this PCW5000-HK gas-powered capstan winch.
As this model comes with two swing side pulleys, you can make the winching power triple quite easily. It turns the same old PCW5000 winch a super workhorse. That's the support you want as a hunter, right?
Again, nothing more to review here as the winch is the same old one. This one just comes with additional hunting kits.
Let's have a look at the accessories that this model includes.
PCW5000: 2200 lbs weight capacity gas-powered capstan winch.
PCA-0100: 1 Waterproof transport case to accommodate all the accessories, including the winch.
PCA-1213M: 1 Double braided polyester rope 12 mm x 100 m
PCA-1274: 2 stainless steel swing slide snatch blocks
PCA-1256: 1 nylon fabric rope bag with handle and shoulder strap (medium)
PCA-1261: 1 hitch plate winch anchor
PCA-1372: 1 durable but lightweight HPPE rope choker
PCA-1282: 1 grab hook
PCA-1281: 1 safety hook with a spring-loaded safety gate
PCA-1259: 2 polyester slings
PCA-1276: 4 zinc plated anodized aluminum steel oval locking carabiners with screw gate lock.
All the accessories are of high-quality and capable of standing firm against heavy loads.
4. PCW5000-FK Gas-Powered Capstan Winch Forestry Kit Review
This model also comes with the PCW5000 gas-powered capstan winch but with the basic forestry kit. Yes, here, FK stands for forestry kits.
That means if you are a forester and looking for a powerful winch with some handy accessories to deal with logs and trees, this model is for you.
To pull out logs comfortably, a tool like a skidding cone can play a vital role, and you are getting that with this model.
Let me list down all the accessories that come along with this kit.
PCW5000: 1 Gas-powered capstan winch – 2200 lbs.
PCA-1290: 1 multi-purpose skidding cone
PCA-1215M: 1 double braided polyester (DBP) durable and low-stretch rope ( 12 mm x 50 m )
PCA-1274: 1 stainless steel swing side snatch block
PCA-1295: 1 choker chain
PCA-1255: 1 nylon fabric rope bag with two handles
PCA-1259: 1 multi-purpose sling
PCA-1276: 2 zinc plated anodized aluminum steel oval locking carabiners
PCA-1282: 1 grab hook
Yes, a waterproof transport case would have been a great addition to this package.
To me, the price is quite reasonable considering the quality of the winch and accessories.
5. PCW3000 Gas-Powered Capstan Winch Review
It is capable of pulling up to 1550 lb of weight and has all the qualities to become a handy companion of any hunter.
As usual, you can make the winching capacity double (3000 lbs) using a snatch block.
It's lighter and more compact than the PCW5000 that lets you carry this winch comfortably during your hunting session.
A 4-stroke Honda engine is powering this winch too. But this time it's a 35-CC all position engine.
If you are finding a lighter winch so that you can carry it over long distances by foot (e.g., hunting), then this winch is the best bet for you.
No matter if you are a forester, hunter, snowmobiler, or boater, this winch can come handy to fit your needs.
No accessories come with this winch. You have to buy them separately.
Let's watch a video on how to set up and use a capstan winch.
Final Words
So, what does all this mean?
If you are looking for a powerful winch for regular use, then PCW5000 is the best gas-powered capstan winch for you. You have several options to choose from based on your requirements. Go for either the MK, or FK, or HK.
On the other hand, if you are looking for a lighter and more compact winch for occasional use, then PCW3000 is the one you should go for.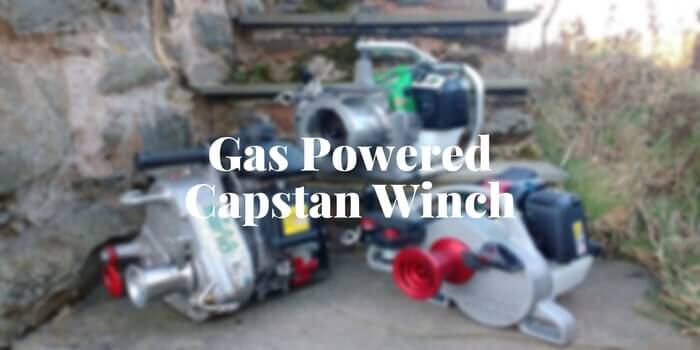 Related Articles: