A winch is a great tool for vehicle recovery. It's a good friend in times of need.
In today's market, high-quality winches are very expensive. If you don't have enough budget, then you can buy a used winch at a cheaper price.
Having the proper knowledge of what to consider while choosing a used winch will help you to save your money and get a good quality winch at a cheaper price.
While it comes to buying a used winch, there is a lot of factors to consider.
In this article, I've explained the factors that you should consider to pick a good quality used winch. If you ever plan to buy a used winch, then follow this article A To Z.
Let's dive into the core section of my article.
Also Read:
Primary advice To Buy A Used Winch
While you're going to buy a used winch, the first thing you need to know is what you're looking for. What types of winch do you want? Do you want a series wound motor winch or permanent magnet motor winch? Do you want a winch with spun gear, worm gear or planetary gear?
Determine how you're going to use the winch. How much winch capacity do you need? You also need to take into count the mounting options.
Considering all of these will help you to identify the best one for your needs.
Inspect The Winch from Top To Bottom
Inspect the overall condition of the winch carefully. Be patient. Don't hurry!
If the winch is painted, how does the paint look like? Is the paint look rusty?
What's the condition of the winch cable? Make sure if it's the original cable and how old it is. If it's a synthetic rope, then carefully check if there are any fraying or tears. Replacement of cable can cost a lot. If the cable is synthetic, then it's even more expensive.
If the cable condition is not good, then it can be very dangerous if it snaps. If the winch comes with synthetic rope, check for sun fading, cuts and knots. After checking the cable, look for a fairlead and inspect if there is a lot of wear.
Inspect the condition of the controller for any indications of excessive wear or damage. This will give you a good indication of how well the previous owner took care of the winch.
The next step is testing. Bring at least a set of jumper cables or a 12-volt battery and power leads to verify the winch works.
Check out the housing, wiring and solenoid packs. If there are any crimps found in the wiring, it could be a potential break. Also, inspect "hot spots" on the studs carefully.
Inspect the cooling fans, clutch, and manual brake. Make sure if the winch has a rebuilt motor. Also, make sure if the winch has a reverse.
Short Summary
Here I'm giving a short summary of this article to make the process easy and clear.
Determine what you're looking for.
Consider Types of the winch
Consider motor and gear types of winch
Check the winch capacity
Consider winch mounting options
Inspect the winch A To z
Inspect the painting of the winch
Check the winch rope for faying, tears, cuts or knots.
Check the fairlead
Inspect the winch controllers.
Take help of a jumper cable to make sure the winch works.
Inspect solenoid packs and wiring.
Check the cooling fans.
The good news for you is that I've already created an infographic which will provide you a better idea about those factors. Let's enjoy the visuals.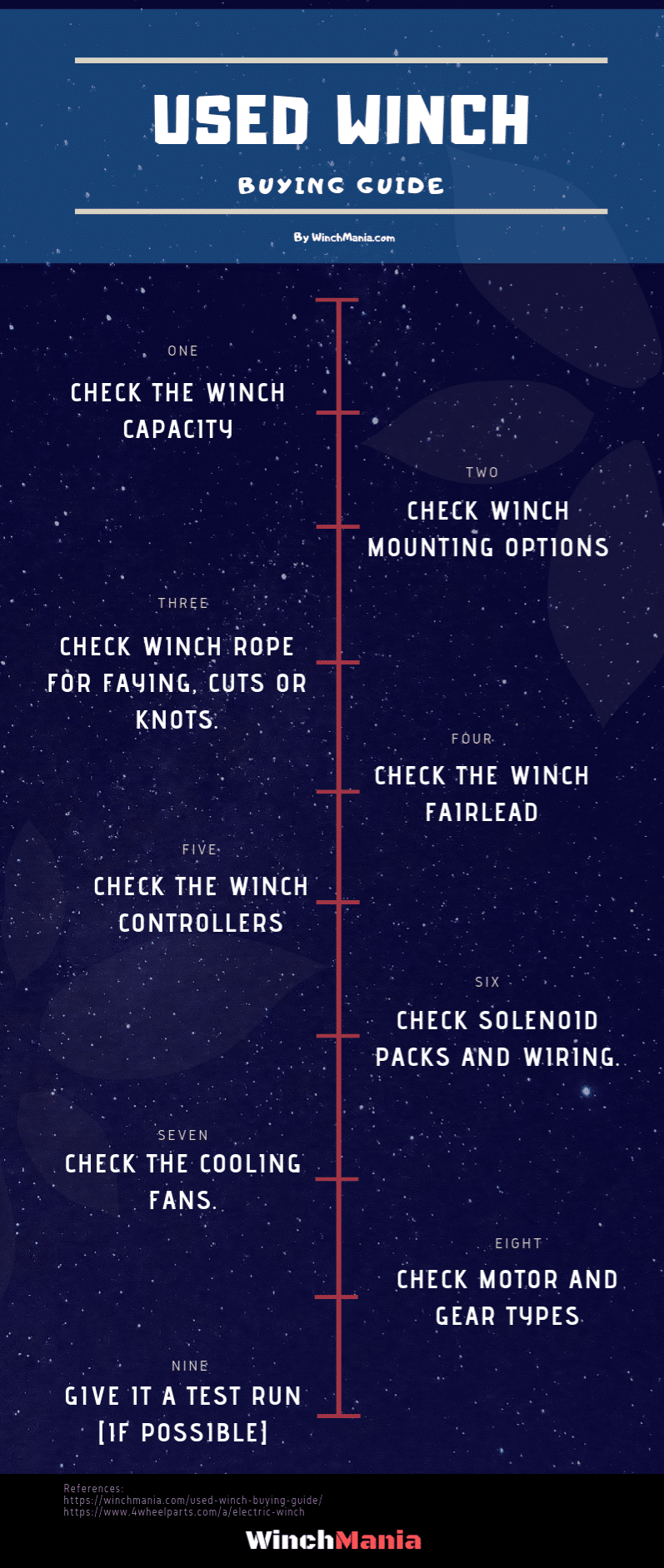 Share this Image On Your Site (Just Copy The Code From The Box & Paste In Text Mode)
Please include attribution to https://winchmania.com/used-winch-buying-guide/ with this infographic.
Now you know what to consider while looking for a used winch, right?
You can save a bunch of money on a winch by following these guidelines. You need to use your hands, eyes and this guide to avoid being spike in the mud.
I hope you have found my article very helpful. If you still need to know anything about the used winch, then inform us via the comment box below. You can also share this article if you've liked it. You sharing will highly motivate us to write more guides like this.
I have also reviewed some top quality winches. If you have enough budget to buy a new one. Then you can read my reviews of winches from different brands: