To get the best performance, you must have a battery larger than you would need if you are planning to use it for your electric winch.
That's not all!
You have to consider some other factors as well to pick the best battery for a winch.
What are those?
Bear with me.
I am going to reveal all the key points with extensive reviews on some top-notch batteries that are perfectly made to use with a winch.
Later on, I will discuss the good and bad sides of each of the batteries.
Before I start reviewing the batteries, let's deal with the key things you should know before buying.
You can Also Read:
Things to Consider Before Buying a Winch Battery
Before you buy any battery for your electric winch, make sure you are not buying a weak battery. Otherwise, your winch won't perform well despite having a larger capacity. 
To give the juice your winch motor is required for optimum efficiency, the battery needs to have a large Cold Cranking Amps (CAA) and a large reserve capacity.
For instance, a 12000 lb electric car trailer winch needs a 12-volt battery that is rated up to a minimum 650 Cold Cranking Amps (CAA) if it's a lead-acid battery.
Good thing is, you will see almost every electric winch has a recommended battery rating. So, it's not that hard for you to know the exact requirement.   
Besides these, you have to make sure about other general buying factors like – durability, environment friendliness, price, brand reputation, weight, etc.
My review for each product is based on all these factors.
Let's get the ball rolling. 
Best Winch Battery Comparison Table
Top 5 Best Battery For Winch In 2020
1. ACDelco 48AGM BCI Group 48 12V Winch Battery Review (Best for the money)
Key Technical Data at a Glance:
Voltage: 12V
CCA: 760
RC: 120 minutes
AH: 70
Dimensions: 10.9″ x 7.5"x 6.9″ (Length,Height,Width)
Weight: 45.6 LBS
Pros
Easy to install without needing any extra parts or hardware.

This battery comes with a pair of built-in handles. It helps you during the installation and removal process more than that has only one handle or no handle whatsoever.

Ultra-low internal resistance. This prevents wasting energy. 

You won't have to check the acid level constantly.

Durable.

Reasonably priced.

Fit with most of the vehicles if not all.
Cons
A very few users complained about the service life. But as per my finding, it easily lasts up to 3 years at least without any maintenance. 
ACDelco 48AGM 12V battery is one of the best batteries for winch on my list. Any AGM technology battery tends to last long. This one is not any exception. 
If you still don't know, ACDelco is a reputed American brand manufacturing automotive parts for years. They know how things work. 
They implemented different technologies to back my claim. For instance, I found this battery remains cool and they implemented an improved acid circulation for that. Eventually, it increases battery life. 
The vent cap design resists acid leakage too.
As I said, you have to have good Cold Cranking Amps (CCA) and Reserve Capacity (RC) to get the optimum result with higher capacity winches. 
This one has 760 CCA and 120 minutes RC, which should be enough to be used with any winch having 12000 lb.
You won't find any issue using this battery during winter. 
Overall, this one is a good battery to try with your winch. It surely withstands under extreme load power. 
2. Optima 8042-218 D75/25 YellowTop 12V Winch Battery Review
Key Technical Data at a Glance
Voltage: 12V
CCA: 620
RC: 100 minutes
AH: 48
Dimensions: 9.38″ x 7.75″ x 6.81″ (Length,Height,Width)
Weight: 37.8 LBS
Pros
Sealed perfectly to withstand against outside elements.

Comparatively lighter than other batteries.

Non-spillable.

Highly resistant to vibration. This confirms the durability.   

Fast recharging. 

Mountable in almost any position.

A perfect battery if your vehicle is equipped with so many electronics and accessories.

Easy to install.
Cons
Doesn't have a handle to carry. This would have made the installation process even easier.

A tad more expensive than the previous battery. 
Optima is another popular brand in producing high-quality batteries. This very 12-V 'Yellow top' is especially for the vehicles that carry a winch. 
They released more models like 'Red top' and 'Blue Top' to serve against various workload. 
But their 'yellow top' ones are particularly made to be used with winch where you are expecting a higher than usual electrical loads.
They offer different versions of different CCA and FC for this particular model. 
This one that I am reviewing is offering 620 CCA and 100 minutes of RC for constant use. Here is another version that is offering 750 CCA and RC of 120 minutes for constant use.
This battery offers pure lead, cylindrical design, sealed case construction. All these ensure the performance quality of this battery. Every Optima battery conducts electricity faster. Consequently, you get a higher burst of starting power. 
Altogether, you can rely on this Optima 'Yellow top' battery if you are planning to use it for the winch your vehicle is carrying. 
A bit costly option but worth the money I must say. This one is the lightest battery on my list.
3. XS Power D6500 XS Series AGM Winch Battery Review (Editor's choice)
Key Technical Data at a Glance
Voltage: 12V
CCA: 1070
RC: 150 minutes
AH: 75
Dimensions: 11.8″ x 6.8″ x 7.2″ (Length, Height, Width) 
Weight: 58.3 LBS 
Pros
Comes with a handle that ensures easy carrying, installing, and removing. 

Offers good resistance against vibration. This helps to increase durability, no doubt.

No voltage drop, consistent power and performance.

Spill-proof.

Perfectly sealed.

Can be mounted in any position.

Withstands in all weather conditions.

Comes with the necessary bolts and other hardware.
Cons
Costly. But it's worth the money.
XS Power is another reputed brand that is making batteries for years and satisfying its customers with quality.
This particular XS Power D6500 battery offers 1070 CCA and RC of 150 minutes. These values are telling how handy it will come in when you will be using it for your winch. 
This one is built with pure lead. The pure lead plates and super absorbent glass mat (AGM tech) helps to ensure the best performance.
You will get 2 M6 terminal blots, D series instruction sheet and 2 split lock washers with the package.
Remember any AGM battery that I reviewed here including this one usually requires charging before using. 
You can use this XS Power HF IntelliCharger for AGM Batteries charger that has a microprocessor to monitor the charging. This helps to avoid any sort of overcharging. I recommend you to use this charger for this battery to get the best charging result.
All in all, this one is a highly powerful battery from XS power. You won't regret buying it. I agree the price is a bit high. But as I said, it's worth it. 
4. NORTHSTAR Pure Lead Automotive Group 34/78 Winch Battery Review
Key Technical Data at a Glance
Voltage: 12V
CCA: 880 
RC: 134 minutes
AH: 65
Dimensions: 10.87″ x 7.7″ x 6.99″ (Length, Height, Width) 
Weight: 51 LBS 
Pros
Reasonably priced.

Fast recharging.

Starts quickly.

Advanced AGM construction.

No issue whatsoever during cold weather or hot summer.

Built-in handle to carry, install, and remove it easily.

Highly vibration resistant I should say. This increases durability.

Leak or spill-proof.
Cons
I haven't found any major downsides.
With a low self-discharge rate this NORTHSTAR 12-V battery is another good option that you can go for to use with your winch.
This very pure lead AGM tech made battery offers 880 CCA and 134 minutes of RC. 
In terms of longevity and performance, you can trust this battery. This is not any cheap China built but exclusively made in the USA. 
5. Odyssey 48-720 Winch Battery Review
Key Technical Data at a Glance
Voltage: 12V
CCA: 723
RC: 123 minutes
AH: 69
Dimensions: 10.91″ x 7.50″ x 6.89″ (Length, Height, Width) 
Weight: 48 LBS 
Pros
Comes with a convenient built-in handle to carry, place, and remove the battery easily.

Spill-proof.

Works perfectly during both hot and cold weather.

Fast recharging.

Can be mounted anywhere. 

Highly satisfactory service life.

Reliable and durable.

Vibration resistant. This confirms the durability of the battery.

Deep cycle capabilities.

Reasonably priced.  
Cons
Another AGM tech battery, this time produced by Odyssey. 
This specific battery is offering 723 CCA and 123 minutes of RC.
Odyssey is not any new brand and you should be well aware of them if you are not new to the off-roading world.
I just want to let you know, you can rely on this battery if you are planning to go out with a winch installed in your vehicle. 
Final Words
Let's recap.
In this article, I reviewed 5 batteries mentioning their upsides and downsides, so that you can easily choose the best battery for a winch. 
Fortunately, I was able to pick all the popular batteries from the reputed brands.
As I said earlier, all of them are well capable of handling extra load efficiently from different accessories including winch.
I believe it's now a piece of cake for you to decide which one to go for.
Now it's your turn.
What else do you want to know? I'd love to know your thoughts.
Comment below to get in touch.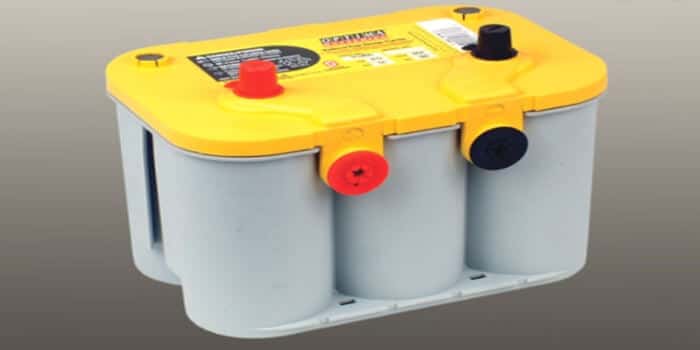 Also Read: