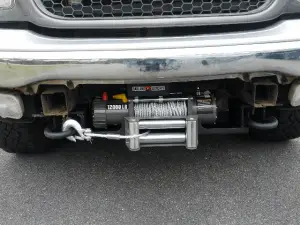 When going off road, you are bound to get stuck, and it is not a matter of if, but of when. No matter the terrain, mud, snow, sand, or rocks, at some point when traversing these terrains, you can get bogged down. Even vehicles that are designed for off road situations at some point will break down. Installing some front and rear tow hooks and bringing some straps could help you get out of those situations. With those installed, you can call for help or have a friend to pull you out. 
Though considering that there are times you are driving alone or out of the wilderness, calling for help can get difficult. It may take some time to get to you in the middle of the wilderness when calling for help. So it's best to be prepared for when these kinds of situations arrive, by having the necessary tools for self-recovery. One of those tools you should consider is a winch.
What is a Winch?
A winch is a tool used commonly for hauling or hoisting. It consists of a rope or a cable wrapped around a rotating horizontal cylinder that is powered by a crank or a motor.  They are used to raise heavy objects and hoist structural frames. They are still in common use today and can be especially helpful when your vehicle is stuck.
Do I Really Need A Winch?
Your vehicle is probably capable enough to handle off road tasks, but with frequent use, they can start to deteriorate. A winch can help you reduce your vehicle's deterioration by having it do tasks with the backing of a winch, Here are some benefits with mounting a winch into your vehicle.
Recreational Activities

: A hook and strap may do the job, but the rougher the terrain it may not be able to handle it. A winch can undoubtedly be useful for your recreational activities, such as off road activities. Your vehicle may certainly be able to handle rough terrain, but there may be terrains that are unpredictable or slippery. These terrains might cause your vehicle to burry itself deeper in mud or sand, and a winch can help you avoid that. Not only there are risks of burying deeper, but there could be instances that your vehicle may even fall over. A winch can help you anchor on any stable position so that you may hold onto it while pulling yourself out.



Utility:

Winches can not only save yourself out of difficult situations, but they can also be used for utility as well. They can be used to pull some heavy loads.



Recovering Others:

Not only can you recover yourself, but you can recover others also. You can also use the winch to tow other people's vehicles and be able to recover them when stuck.
What Winch To Get?
There are different types of winches for different uses and different weight capacities. Some winches have low weight capacities like 500lbs, while some have high rated capacities like 12000lbs. One of the leading and trusted brands for winches in the market is Mile Marker Winch.
Here are some of our Mile Marker Recommendations:
Mounting Your Winch
Now that you have decided what type of winch to get, it's time to learn how to mount it. Hiring someone to mount it for you can be expensive, so here are some guides for how to do it yourself.
Safety:

The most important before installing any winch is safety.  Here are some tips to ensure your safety. For more information on safety tips and precautions, please refer to this

guide

.

Keep The Area Clean

: Make sure to keep the area clean before starting any work, there might be any objects lying around that might cause you to hazard.

Wear Gloves

: You are going to work with some heavy equipment, and your hands might get caught onto something. So wear gloves to protect yourself if any missteps happen. 

Do Not Wear Loose Clothing

: Do not wear loose clothing. They could get caught in the winch's moving parts and cause injuries,

Do Not Install Winch Without Reading and Understanding The Operator's Manual

: Carefully read and understand what is written in the manual regarding the winch you are going to install. There might be some instructions there on how to handle the winch.

Choose A Mount Plate:

You will need to purchase a mounting plate for your vehicle. Stock vehicles don't come with a built-in winch mounting plate. 

Choose which mounting plate is designed for your vehicle

The mounting plate must have the rating that can withstand the winch's pulling rating that you are going to install.

Make sure the mounting plate is compatible in size.

 

Mount The Mounting Plate:

Align the winch perpendicular to the centerline of the vehicle at the desired location. Mark the location of the winch base holes. Then install the mounting plate by bolting it securely

. 

Make sure there are no electrical wires in the way

Mount The Winch:

Simply mount the winch into the mounting plate and secure tightly with bolts. The winch should be mounted into a suitable steel mounting frame using the four mounting configurations.

Foot down:

In this mounting configuration, the winch's four mounting holes are at the bottom.

Foot forward:

In this mounting configuration, the winch's four mounting holes are facing forward.

Foot down OR foot forward:

The winch can be mounted either in the foot down position or foot forward position.

Foot forward AND foot down:

The winch is designed having four bolts that are used for foot forward mounting position, and two are used in the foot down position. These winches cannot be mounted in the foot down position only.
Electrical Connection
Most winches that are being sold in the market are electric-powered, so this step is important. The most simple way for installing a winch is to mount it in the front and run it using the car's battery.  Here is a step by step guide to connecting the winch to your car's battery.
Connect the positive wire (+), usually color red, to the positive post (+) on the winch

Connect the negative wire (-), usually color black or brown, to the ground post on the winch

Move both wires from the front into the engine section.

Keep the wires out any significant heat sources or wherever the wiring can rub or get pinched.

Connect the positive wire (+) from the winch to the positive post (+) on the battery, and most winches include an in-line fuse.

Connect the negative wire (-) from the winch to the negative ground (-) post on the batter
Note:  There could be more instructions in the installation process of the winch you bought. Please refer to that.
Conclusion
Now that you have learned the importance of a winch and how to mount a winch on your vehicle, do you have any thoughts on this? Did you think I missed something? Comment below.  We also offer some other tips and guides as well, such as Winch Ground Anchors Guide and Endurance Marine Winch Review.