A winch is pretty much useless if you have no winch mounting plate. The winch mounting plate is the accessory that you can't do without. It is what ensures that the winch itself does not break away from the car, or whatever surface the winch is mounted on. When choosing a mounting plate, you have to look for the best.
The way I see it, a winch, and all of its accessories, is one big chain. Every part is a link in the chain. And the entire chain is only as strong as the weakest link – or the weakest part. If the mounting plate is weak and easily broken, then the integrity of the entire setup is compromised.
With that said, I went out of my way to look for the best winch mounting plate. I've found products that are very much well-worth the money. They are tough, strong and they can be universally fitted with a lot of winch models.
Let's get started!
The Best Winch Mounting Plates for your Money
Ego ECOTRIC RACK-A23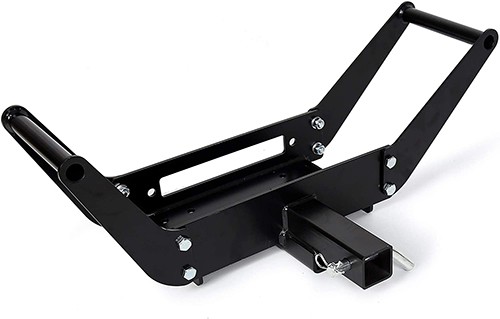 It comes from a brand that is quite unheard of. Still, it packs features that I think can well compete with those from more famous brands. It is a cradle winch mount style, which I think provides a more complete hold on a winch.
This one is perfect for any winch with a load capacity ranging from 8000 lbs to 13000 lbs. The steel on this thing is about a fifth of an inch thick – it is quite tough. It is covered with an anti-rust black powder coat finish. Based on what I have seen on this winch, so far, it is far more durable than its price would indicate.
As long as your vehicle has the standard 2 inch receiver hitch, you can easily mount this plate. This unit features the 10 inches by 4 and a half inches standard winch mounting bolt pattern. Although it has cradle hold handles, those parts are not movable.
For a its price point, this winch mounting plate provide such great value. It can work well with most winches in the 8000 to 13000 lbs load capacity range. Tough, versatile, easy and can work well with the top winch manufacturers – this is a winch mounting plate you can easily choose with little room for regret.
PROS
Light, but strong

Up to 13,000 lbs of load capacity

Universal fit

Great value for your money
CONS
You may encounter rusting problems sooner than expected
WARN 11078 Foot Forward Winch Mount Kit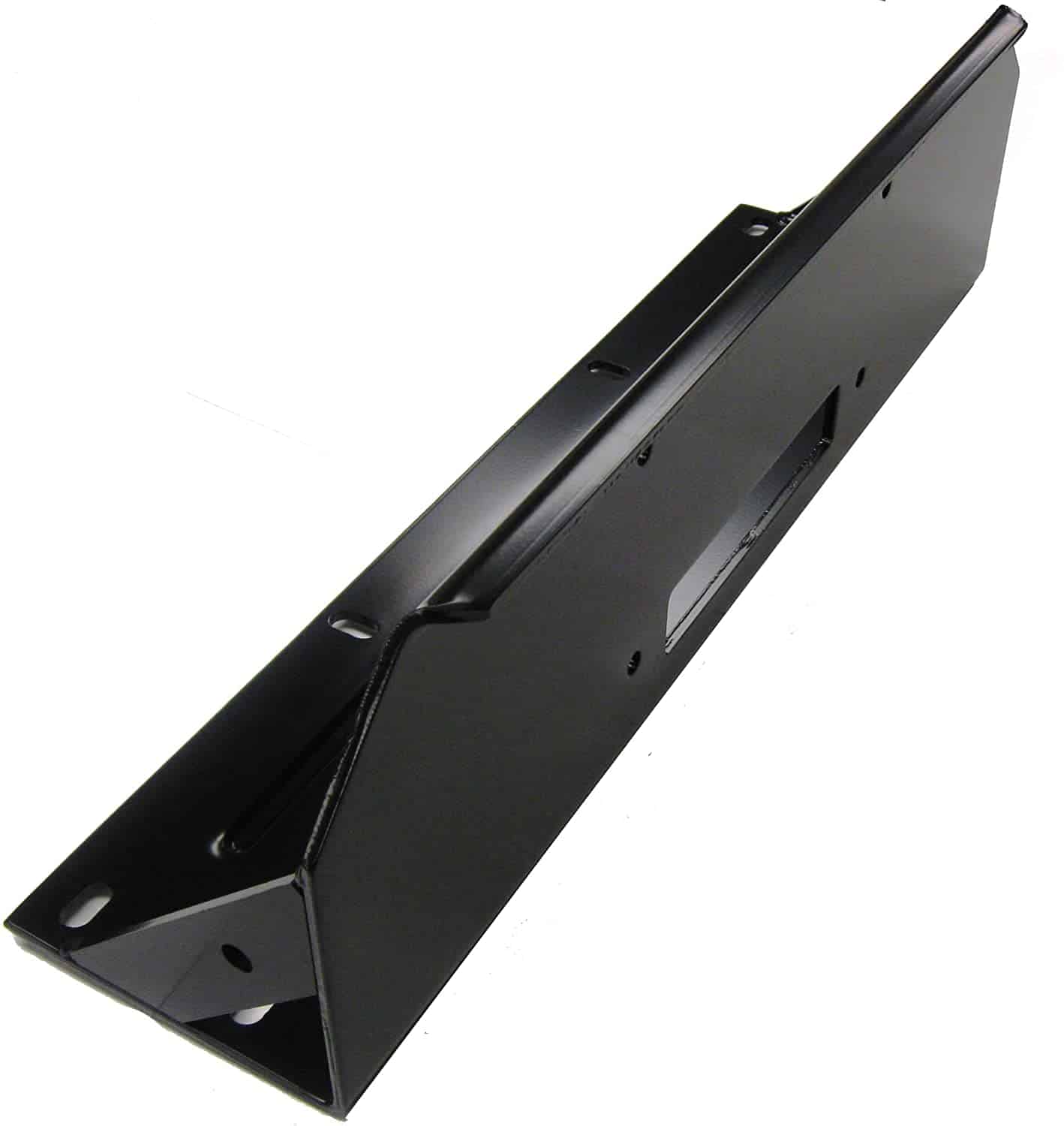 Here is a WARN winch mount kit. WARN is widely known as the best winch and winch accessories manufacturer. Although undeniably more expensive than most winch brands, you can always be assured with the quality of WARN products.
This is a winch mounting plate with a flatbed design. This allows you to mount your winch onto any flat surface. Although a universal winch mounting plate, it is specifically designed to perfectly fir the WARN M12, XD9, VR8, M6, M8, 9.5xp and the M8274-50 winch models.
As should be expected from Warn's reputation, this unit is very tough. It has an all-steel build with a black powder coat finish for anti-corrosion resistance. It also utilizes a face shield  that offers extra protection for your winch.
All the necessary mounting or installation hardware is part of the package. It has elongated holes that can fit most winch models. Based on what I have seen, it can be used in conjunction with winches with up to at least 13000 lbs of load capacity.
Easy to mount, well-protected, very sturdy and quite convenient, this winch mounting plate from Warn has not brought shame to Warn's good reputation. If you've got the budget, then this is a great option.
PROS
Very tough

Up to at least 13000 lbs of weight limit

Can be mounted on any appropriate flat surface
CONS
Badland Winches 60522 Winch Mounting Plate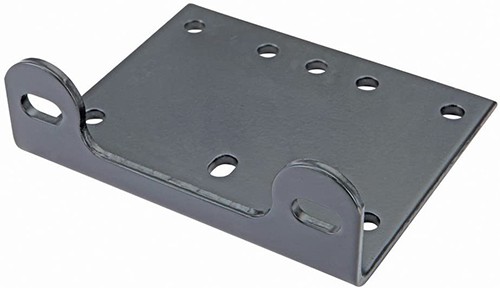 Badland Winches is a famous winch manufacturing brand. Their products are well worth the money you spend on them because they are really sturdy. And this winch mounting plate model is no different.
This mounting plate is designed for ATV or utility winches. It is suitable for winches with a load capacity of 2000 to 3000 lbs. As mentioned above, it is very sturdy. It is made of a 6 gauge steel construction. It is also coated with a tough powder coat finish. It is resistant to rusting and corrosion. This makes it suitable for a lot of utility winch application, like snow plowing.
A bracket for a fairlead is also included. I would love it better if installation hardware comes with it, but for its price, I might be expecting too much. Nevertheless, its sturdiness speaks for itself.
It is also very easy to install. It does not exactly fit most 2000 to 3000 lb winches, but it can be managed easily enough. As for the Badland 2000 and 3000 lb winches, it will fit like a glove. If you don't know if Badland is a good brand, read this informative article.
PROS
Perfect for 2000 to 3000 utility or ATV winches

Very sturdy

Good price
CONS
A little creativity is needed to fit other brands of ATV or utility winches; but it is not too hard to accomplish
Guide Gear 10210025 Universal Winch Mount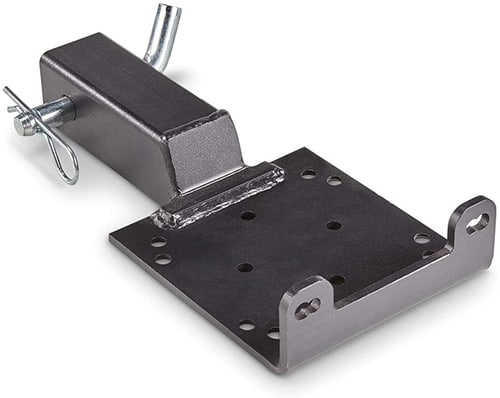 This is a winch mount that can handle loads of up to 3500 lbs. It is a good option for a ATV, UTV or truck winch. As you can see from the picture above, it is compatible with any vehicle that has a 2 inch receiver hitch.
It is made of steel that is powder coated. It is weather and corrosion resistant. It is drilled for any 2 or 4 bolt winches. This means that it can be used to mount any winch with a 2 or 4 bolt standard mounting pattern.
Although the installation hardware, the nuts and bolts, are not provided, you can easily acquire those items. Installation of this item requires only the very basic skills and tools. A cable guide can also be mounted on the end opposite the hitch.
For a simple contraption as this, I would have expected it to be made of one piece. Instead, it is two pieces of steel welded together. Although it seems to be quite well made, I have seen others complain of it breaking at the welded parts.
As long as you keep the load well within its range, you should have no worries about this mounting plate. It is affordable, after all, so no one should expect it to be the toughest of them all. With this mounting plate, you'll get exactly what you pay for.
PROS
Can be fitted with any winch with the standard 2 or 4 bolt mounting pattern

Very affordable

Easy to install
CONS
Welded part are more prone to break than if made with one piece of steel
Choosing the Best Winch Mounting Plate – A Quick Buying Guide
Strength
The very first thing you have to consider in a winch mounting plate is its strength. This is the rated load capacity. You have to make sure that it is either equal or higher than that of your winch's rated load capacity.
If your winch has a higher load capacity than that of the mounting plate you choose, the plate might break if you use the winch's whole potential.
Fit
The next factor I would consider is the fit. No worries in this list I've provided though. Because in this regard of it, all of these are universal. This means that they conform to the traditional and most widely used bolting patters.
This means that they can be fitted with most winch models of any brand. These are exceptions to this, of course. There are winch units that require specific mounting patterns. Normally, these types of winches require mounting plates manufactured by the same company as the winch.
Durability
The next factor I'd consider is durability. This is quite different from strength. Durability is more on resistance to wear and tear due to damaging elements.
As far as most winch mounting plates go, anti-rusting sort of protection is the only form of durability feature. But I would also look for the strongest material possible.
The Best Winch Mounting Plate
The success of your winching operation depends entirely on the quality of your winch and its all of its accessories, both collectively and individually. Having a mounting plate that can go through the same arduous tasks as your winch spares you a lot of headache.
It is also a lot more comforting if that mounting plate is very easy to mount, and is affordable. That makes the experience more convenient. With any of these winch mounting plates, you are getting your money's worth. They are tough and they can be fitted with a wide range of winch models.
Are there other winch mounting plates that you think are the best? If so, share your thoughts on the comments section. Your opinions matter to me.