When it comes to hauling and hoisting some loads, the winch is the best tool for the job. Any heavy load that needs moving will be a breeze if you have a winch. This tool will be the best investment on your part if your project or job requires hoisting or hauling loads. If you want to look for more information about winches, see our article What is a Winch?
Now that you have the tool to move some heavy loads in your job, do you have the means to secure it in place? A rope may do the job, but it can get damaged if you have cargo that has a sharp edge in it. Plus, with frequent use, they tend to have splinters on them, which makes them unreliable for securing much heavier loads. Ropes will only be a temporary solution, and what you really need is a tool that can hold heavy cargo and can last long even with frequent use. The solution you would be seeking is a winch strap.
What Is A Winch Strap?
A winch strap is a tie-down strap used to hold down some cargo or equipment during transport. The winch strap keeps the load in place by tightening it, essentially just holding its own by tension. It is made out of polyester webbing, making it durable against sharp objects,  unfavorable weather conditions, and are not prone to splintering. You can only use a winch strap if you have a winch installed.
Unlike chains or other means of securing cargo, the winch strap is soft and light. This makes it perfect for handling any delicate cargo, an example of which is glass. The winch strap also doesn't weigh much, so it does not add more load to the vehicle, and thus saving fuel.
Compared to ropes, the winch strap does not require some complicated knots to secure cargo. They are easy to use, even for beginners.
Winch straps are commonly used in flat-bed trucks, and as such, are heavily used in the trucking industry. Winch straps are also known in the trucking industry as Truck Winch Straps, Flatbed Straps, or Truck Tie Downs. Not all winch straps are used only for huge trucks though, and there are also smaller winch straps in the market. You can pick which winch strap you want according to your needs.
You may think that winch straps are only used for securing cargo, but there are also other uses as well. A winch strap can be used for towing by using a hook to connect to vehicles. Another use for winch straps, when used with cranes, is for removing dead or damaged trees. 
Winch Strap Recommendations
Before you go get yourself a winch strap, you first must ensure that you are getting the best quality. Whether you be an expert or a beginner, you must get the best equipment to ensure safety and reliability. It would be a waste of money instead if you pick some bad ones which ended up broken shortly after use. 
However, looking for the right winch strap for yourself can be hard. With the amount of winch strap businesses out there, it will be hard sorting out which ones are reputable and which aren't. It will be time-consuming to find the right one, but fortunately for you, we can help!
We have compiled a review list of winch straps to help you choose which winch straps are for you. This list covers different winch straps for different uses and at different price ranges. It will be up to you which winch strap is for you.
4″ x 30′ DKG Cargo Winch Strap with Flat Hook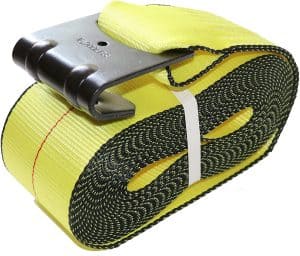 This winch strap is perfect for those that are looking for a reliable winch strap to secure cargo. DKG Cargo Winch Strap is safe and simple to use even for beginners. The only thing you have to do is to tie the load around and secure it tightly by inserting the hook into the winch.
It has a durable webbing that doesn't stretch when water is absorbed nor does it shrink. It has a rated working load limit of 5400lbs.
CarBole Trailer Winch Strap 2″ x 20′ with Safety Snap Hook 10000 lbs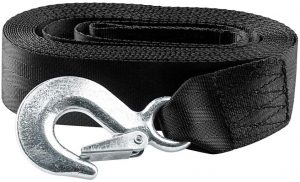 If you are looking for a winch strap that is perfect for your towing and uses in trailers, then the Carbole trailer winch is for you. It is so tough that the Carbole company has given this product a  3-year warranty! They are that confident with this winch strap.
What sets the Carbole trailer winch strap different from other winch straps is its amazing durability. It is rated to comfortably manage a working capacity at 3300lbs, but it can withstand even up to 10,000lbs. This winch strap is ideal for use in towing trailers, boats, vehicles, and moving debris.
This winch strap also features a zinc-plated hook that protects from rust.
Sunferno Recovery Tow Strap 35000lb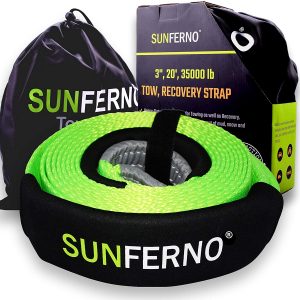 Looking for a winch strap that is strong enough to withstand the weight of a stuck vehicle? Then look no more further than this. This winch strap is specifically designed for the use of towing and recovering stuck vehicles. No, this is not towing a vehicle on a smooth road. This is towing a vehicle in harsh terrain! Whether it be in snow, sand, or mud, this winch strap is capable of holding its own.
This winch strap has a rated capacity of 35000lbs. You can pretty much pull anything with this strap. Simply connect the strap to the winch to use it.
Conclusion
A lot of winch straps that are in the market gets broken down easily. But the three products that we have reviewed are high quality, and they are tried and tested. With that said, hopefully, this review has helped you in choosing which winch strap to buy.
If you have any more thoughts or concerns on this topic, feel free to comment on it below. We also offer other guides as well such as: