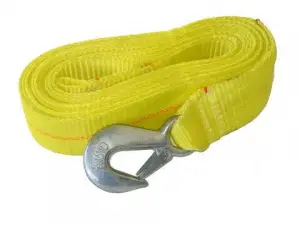 If you are using your truck for utility purposes, getting a winch is a good accessory to add to your truck. Winches can especially be useful for lifting, hauling, or hoisting heavy loads. Not only can they be used for utilities, but they can also be used for recovery as well when stuck.  With a push of a button, winches can do the heavy work of hauling, hoisting, and lifting for you.
A winch can certainly do the work for you, but when it comes to securing the cargo what do you use? A winch alone can only help secure it, but there is a tool that secures it, and that is a winch strap.
What Is A Winch Strap?
A winch strap is a tool used for securing the cargo. They are a tie-downs strap, it keeps the load together by tightening it, making the tension hold it jointly in place. Winch straps are typically made out of polyester webbing, making it very durable to weather conditions and against sharp objects. They are commonly used in securing cargo loaded onto a truck.
Benefits of A Winch Strap
A winch strap really is the best choice for securing the load. Here are different ways of how it benefits you.
Soft And Light:

Unlike chains, or any other securement methods, the winch strap is soft and light. The winch strap is not hard which can potentially shatter any fragile loads and not heavy to weigh on any loads.
Durable:

Though it may be soft and light, it is durable. The winch strap is made out of polyester webbing, making it durable against wear and tear 
Cheap:

Winch straps are inexpensive while at the same time being suitable for handling loads.
Ease of Use:

Winch straps are easy to use and install, no need for any complex knots or any other securement methods.
Where is Winch Strap Best Used?
Winch straps are best used in flatbed trailers. You can secure the load with it by wrapping it lengthwise around the load and then tighten it with a winch.
If you want to improve your winch strap's lifespan, check out a corner protector. As the name suggests,  a corner protector protects the winch strap from sharp corners which in turn lessens the wear.
How To Use A Winch Strap
Now that you have learned how useful a winch strap can be, here is a guide on how to use it.
Spool The Winch:

Allow the winch spool freely so that you can you'll out the winch strap freely.
Wrap The Winch Strap:

Wrap the winch strap lengthwise around the load. Make sure the winch strap is not twisting, if so, straighten it.
Anchor The Winch Strap:

Find an anchoring point where the winch strap can hold onto.
Lock The Winch:

Lock the winch so that the winch straps stop from spooling freely.
Tighten It:

Tighten the winch strap with the winch you have installed.
Winch Options
Before you get to any of this, you first have to have a winch on your trailer. You have to first have to know trailer winch mounting. But before you learn trailer winch mounting you first have to get a winch mount for your trailer. 
Here are some of our recommendations for winch trailer mounts. The mount is essential for trailer winch mounting.
Conclusion
Now that you have learned how a winch strap can help you, any thoughts in this that you'd like to share? Comment below. Our website offers other guides and stops as well regarding winches such as Offroad Boar Winch Reviews, Ironton Winch Review, and Best Runva Winch Review.