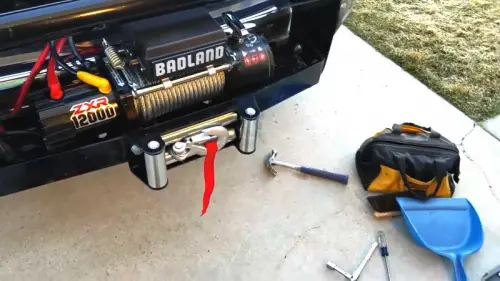 If you had any prior experiences of off road adventures, you have at least found yourself in a difficult situation. It could have been getting stuck in the mud, snow, and steep hills. Recovering yourself out of those harsh conditions is tough. So it's best to be prepared with the right tools so that you can get out of those situations quickly. 
One of those tools to prepare yourself for your off road trips is a winch. Help is more often inaccessible, and you cannot rely on passersby to help you, especially out there in the wilderness. With a winch installed in your vehicle, you can recover yourself from getting stuck quite easily.
Winches have become a must for off road enthusiasts, and the demand resulted in competition. The market has caused many brands to spring out and offer services. Picking the best winch among a bunch of brands and from a wide range of sizes and capacity can be confusing. We can help you with this confusion by suggesting to you Harbour Freight Badland winches. The company is going strong against market competition due to its winch's reliability and cost-efficiency. 
Is Badland Reliable?
Badland is a brand used by Harbour Freight Tools, and they are one of the leading brands in the market. Badland winches are known for durability, fair price, and easy maintenance. Its tools are made at Calabasas, California, but the Badland winches are manufactured in China.
Benefits for Using Badland Winches
Variety of Winches
Badland offers different types of winches. From light-duty winches to heavy-duty winches, so they have winches suited for everyone's needs. Since there are a variety of winches, they are offered in different price ranges as well.
Ease of Setup
Typically, it is complicated to install a winch, especially when doing it yourself. But with badland winches, it is very straightforward, allowing you to install the winch rather easily and quickly.
Ease of Maintenance and Warranty
When it comes to maintenance, Badland is one of the tops in the market. Badland Winch maintenance is very straightforward and also has two years warranty. If you have any performance issues and malfunctions in the winch, they can have it replaced immediately.
Safety First
Before we get to installing a Badland winch for your vehicle, put safety first. Winches are powerful, and they are intended to pull thousands of pounds of force, so they should not be taken casually. Here are some safety tips and precautions:
Do Not Wear Loose Clothing

: Do not wear clothing that is loose. They could get caught in the winch's moving parts and cause injuries.
Confirm The Area Is Clear:

Make sure the area you are going to work on is clean and orderly.

Be sure there are no electrical wirings, fuel lines, and gas tanks that could get damaged when drilling.
Wear Gloves

: You are currently working with metal wires, and they can have metal splinters. It's best to wear gloves to protect your hand during the installation process.
For more information on safety tips and precautions, please refer to this guide.
How To Install Badland Winch
Now that you have decided to choose a Badland winch and have taken steps in safety. The next step would be to install. Here is a step by step guide to installing a Badland winch. 
Mounting Your Badland Winch
The mounting plate must be rated to have the capability to support the winch capacity you are going to install.

 Align the winch perpendicular to the centerline of the vehicle at the desired location. Mark the location of the winch base holes.

Before drilling, be sure that there are no components such as electrical wires or structural pieces in the way. Electrical wires could be damaged and the structural parts as well, resulting in the weakening of the mounting frame.

Drill holes at the marked locations.

Simply install the winch with bolts and make sure to tighten them. 
Electrical Wiring Connection
Connect the positive wire (+), usually color red, to the positive post (+) on the winch

Connect the negative wire (-), usually color black or brown, to the ground post on the winch

Move both wires from the front into the engine section.

Keep the wires out any significant heat sources or wherever the wiring can rub or get pinched.

Connect the positive wire (+) from the winch to the positive post (+) on the battery, and most winches include an in-line fuse.

Connect the negative wire (-) from the winch to the negative ground (-) post on the battery.
Note:  There could be more instructions in the installment and wiring process of the winch you bought. Please refer to that.
Now that you have installed a winch, we have a guide that can help you on how to use it. If you are confused about which Badland winch to get, you can check this buyers' guide. Do you think I missed something? Do you have more ideas? Please share them in the comments below.