Boating is fun, there's just no denying it. Cruising along the surface of the water languidly is relaxing. What is not relaxing about it is docking and storing the boat. It takes focus, intelligence, and good navigation skills. But even if you have all those, they are futile if you don't have the right tools.
Having a winch is truly helpful. It significantly makes the process of settling the boat into its trailer.
However, there is another tool that makes the winch ever more effective. I am talking about a boat trailer winch stand.
A boat trailer winch stand projects the winch vertically. It can also adjust the winch position horizontally, along the trailer. This helps provide a better angle for the winch to pull the boat easier.
Qualities of a High Standard Boat Trailer Winch Stand
Versatile and Adjustable
Since the main reason to use a winch stand on your boat trailer is to provide other angles for you to work with, the winch stand should be versatile. It should be very adjustable so that, even in limited spaces, you have plenty of angles, options and room to work with.
Strong and Resistant
When it comes to winches and their accessories, I always imagine them as analogous to a chain. Each link of the chain is an accessory of the winch. Just as the total strength of the chain is equal only the weakest chain link, so is the winch as strong as the weakest accessory. The point is, if the boat trailer winch stand is not string enough, the entire winch operation is compromised.
The winch stand should be able to handle at least a little bit more load that the winch.
And because the environment it will work in often has water present in it, it should be resistant to corrosion and rusting. If you'd prefer a more protected winch stand, then you might want to throw in a little UV protection into the mix.
Easy to Mount
In my opinion, a good winch stand should also be easy to mount. And even though easy to mount, it should still be sturdy.
Now, let's jump into the products that I think fulfill the aforementioned factors quite well.
Top Broad Trailer Winch Stand
Die-matic Short Nose Adjustable Winch Stand (B01LDDPOU8)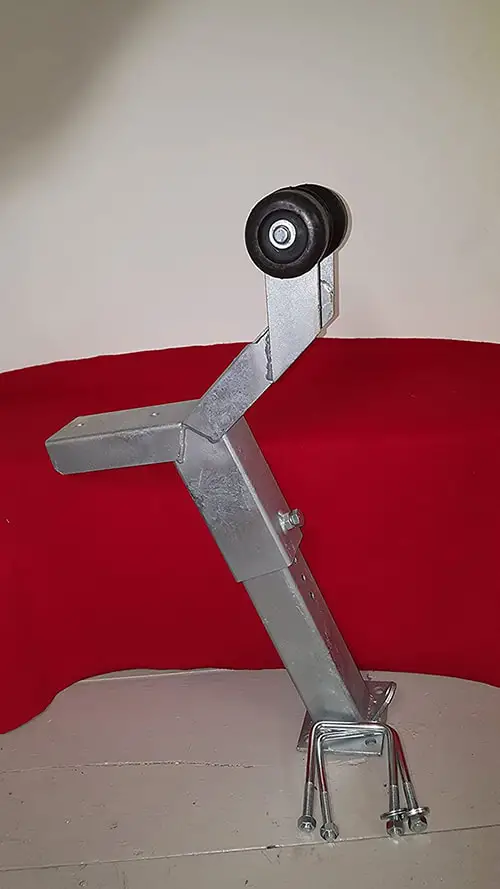 This galvanized winch stand is from a manufacturer that has been around for about three decades. This one works wonderfully well since it is extremely adjustable.
It is about 15 inches tall, a little more than that actually. It can be mounter easily enough using standard bolts and a wrench. It also has a little eyelet for a safety strap.
The unit is very solid in construction. The welded parts hold their share of load quite well. It is made of galvanized iron. It is also zinc plated. So there's a bit of protection from the elements right there.
A winch base, palnuts, stand base, U-bolts, a thread, a bow roller and roller caps are all part of the purchase. All of these are of good quality. They would seem to last the test of time.
This is a great option of a boat trailer winch stand. It is tough, and it works wonderfully great. Totally recommendable.
PROS
Very versatile and adjustable

Zinc plated, strong galvanized materials

Complete with essential accessories

Very affordable
CONS
No strong corrosion resistance
Having a tough, adjustable and strong boat trailer winch stand is a big help in managing and storing your boat. It also does not hurt that it won't break the bank with its price.
This is, by far, the best boat trailer winch stand that I've ever encountered. With this product, you are getting more than your money's worth. Coupled with a  good quality winch and winch line, it is a true investment.
If you need the best options for hand winches that are fantastic as a boat winch, why not see this dedicated review? And if you need help deciding on what type of winch line to use, see our synthetic rope vs steel wire cable article.
Do you have a suggestion for the best boat trailer winch stand? If so, write it on the comments section below. I would appreciate to hear your opinion.