There are many types of winches. And all of them have very practical and useful purposes. One of the most common types of a winch is the electric winch. Perhaps the most common application for an electric winch is pulling off road vehicles out of very sticky situations.
If you have a considerable amount of experience in off road driving, then you might have noticed that the most common type of winch used by off roaders is the 12 volt electric winch. Since that is the most common type of winch used in off road driving, it is only logical to assume that there are tons of it available in the market.
Having a lot of 12 volt winches available in the market is a good thing, in its own respect. It gives you the confidence that should your winch break, you can easily get a new one. The problem, however, is which one? There are hundreds or maybe even thousands of 12 volt winches from different brands and different models. The question is then, which are the best?
The Best 12 Volt Winches: Out Top 4 Picks
Superwinch 1130220 LT3000ATV (B0034ZUZM6)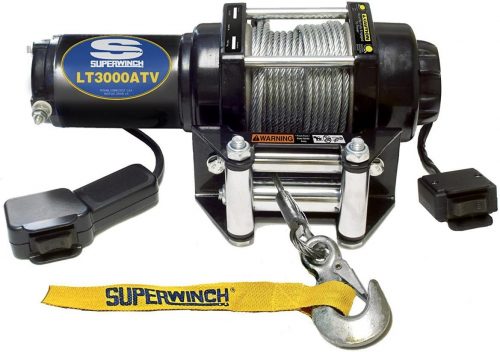 Superwinch is one of the few winch brands who built a reputation through decades of unfailing quality. What has made Superwinch a household name in the winching business is perhaps how well they integrate quality and affordability quite exceptionally. Yes, there are other winch brands that may have more caliber, but they usually come with a hefty price not everyone can meet.
This specific unit has a 12v direct current motor. The motor is sealed and protected. It also draws low amperage (180 Amps at a 3000 lbs pull) and it rocks the permanent magnet technology.  It has a pulling capacity of 3,000 lbs. It is perfect for small off road vehicles such as an ATV or a UTV.
The winch features a mechanical and dynamic brake. It has a handle both bar mounted rocker switch and a hand held remote with a 12 foot lead. A roller fairlead, a mounting plate, a sealed solenoid, a free spooling clutch, and a clevis pinned latched hook are all included in the package. The cable is a steel wire cable; it is 50 feet long and 3/16" thick.
The product is backed by a 2 year limited warranty on the mechanical components and a 1 year warranty on the electrical components. The winch has a sleek design, so installation should not be a problem. The unit follows a universal mounting pattern so it can be mounted on most winch mounts.
Overall, the Superwinch 1130220 LT3000ATV is a purchase you will not likely regret. For its price, you are getting a lot of value.
Pros 

Cons

Has pretty much all the essentials

Can fit most winch mounts

Affordable 

Mounting the solenoid may be tricky as there are no mounting hardware for it
Smittybilt GEN 2 XRC (B00JXS3BXI)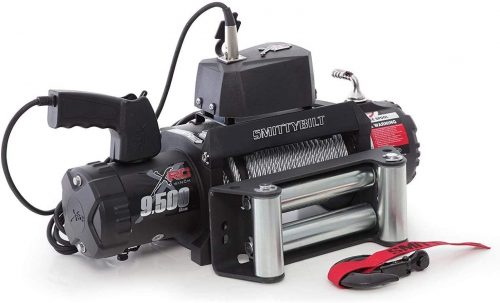 Smittybilt is another example of a brand that provides great value at a significantly lower cost. Among the many good winch models that Smittybilt manufactured over the years, the XRC is undeniably one of the best.
This unit packs a lot more power than the previous one. This has a pulling capacity of up to 9500 lbs. It features a three stage planetary gear system, a four way roller fairlead and 6.6HP, 12v series wound motor.Everything you need for installation are also included in the package. The solenoid is completely sealed and waterproof with an IP67 rating.
The product is supported by a limited lifetime warranty on the mechanical parts and a 3 year warranty on the electrical components. This winch also rocks a sliding ring gear, an automatic in the drum brake, and a textured black finish. As for the cable, this Smittybilt winch comes with a 94 feet long 5/16" steel cable. 
For a 12v winch, the Smittybilt GEN 2 XRC packs a lot of punch. It is conveniently easy to install, and it performs well. The waterproofing does not hurt either.
Pros 

Cons

Worth its cost

Waterproof solenoid

9500 lbs pulling capacity

Some buyers found its material quite flimsy
WARN 92000 Winch (B00ID981Z6)
When speaking of the best among winches, many off road riders might find it absurd that the brand name Warn is not mentioned. Warn is in the winch industry as Rolex is in the watch industry, one may say. Of all the best winch manufacturers today, perhaps Warn is the most trusted by many. Though Warn products are generally more expensive than that of other brands', Warn has proven time and again that their prices are justified by the quality of their winches.
The Warn model 92000 is small in size. It has a pulling power of 2000 lbs and can be fitted almost anywhere on your truck due to its size. It has a 1.6 HP permanent magnet, direct current motor and is highly ideal for utility use on small vehicles.
The Warn 92000 is equipped with a differential planetary gear train. Since it is a compact utility winch, it only has a 35 foot long steel wire cable that is 3/16 inches in diameter. A hook, clasp, corded remote control and a hawse fairlead are all part of the purchase.
For such a very small and highly portable unit, the winch boasts a lot of pulling power. It is quite convenient that way.
Pros 

Cons

Portable and small

Powerful for its size

Made of durable, high-quality materials

Installation is not simply a walk in the park
Keeper Corporation KT2000 Trakker (B0017M8HPA)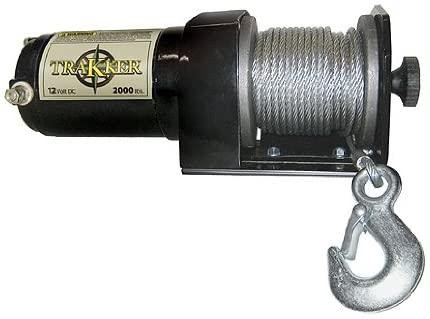 Here is another 12 volt winch. This one is not from a highly recognizable brand, but it has its own merits. It is manufactured by Keeper Corporation, and it is very affordable.
This unit has a pulling capacity of 2000 lbs. The manufacturer boasts that it can last up to 20% longer than average winches do. The motor only packs 1 horsepower, but by all appearances it seems that the winch is quite powerful for its size and price. A hand held remote control and a hand saver strap is part of the package.
It is a utility winch, so it can be used for other purposes other than pulling vehicles out of sticky situations. It can be used for ATV snow plowing applications. It also has a unique design; the drum is mounted on the side. It has no fairlead, it is more of a portable winch that you can use pretty much anytime and anywhere.
Installation should be easy enough, considering that the wires are color coded. The winch also features a built-in circuit breaker to protect it from common electrical problems. It also has a dynamic braking system which can hold a fully loaded cable. The KT2000 Trakker comes with a 50 foot steel wire cable. A hook, a manual and a hardware kit are also in the package.
Considering that the product is from a fairly unknown brand, this winch has some impressive features. It is very affordable. There will be little, if any at all, regret that could possibly manifest in its purchase.
Pros 

Cons

Portable and small

Powerful for its size

Very affordable
What's Your Pick?
There are so many 12 volt winches out there. You can be driven mad just by sifting through each of them looking for the best of the best. These four winches are as good as 12 volt winches come. In their own way, each of them are well worth their price, depending on what you value. They are powerful and highly useful. These four are, in my opinion, the best 12 volt winches.
There are many other types of winches. See this informative guide if you are in search of other kinds of winches.
Do you have any questions? Or are there other items you think should make the list? Share them in the comments section below. I'd love to hear from you!