Loading heavy objects onto the bed of your pickup truck isn't easy. It just isn't very satisfying if you can't use your truck for heavy transport, it feels like your not utilizing all of its muscles. Thankfully,there are a lot of tools you can use to maximize your truck's full capabilities. Tools like a truck crane, or a winch allows you to access its greater potential.
You know what will make your truck more useful than having a winch at the front? Having a winch on its bed. Think about it, this gives you the ability to load very heavy items onto it very easily.
But finding the best truck bed winch is not easy. The winch should perfectly fit on the bed of your truck. And it should be able to do a all kinds of work like hoisting, towing or just pulling.
In this review, I examined a number of winches and have come up with winches that I think are the for your truck bed.
The Best Options for a Truck Bed Winch
Smittybilt 97495 Winch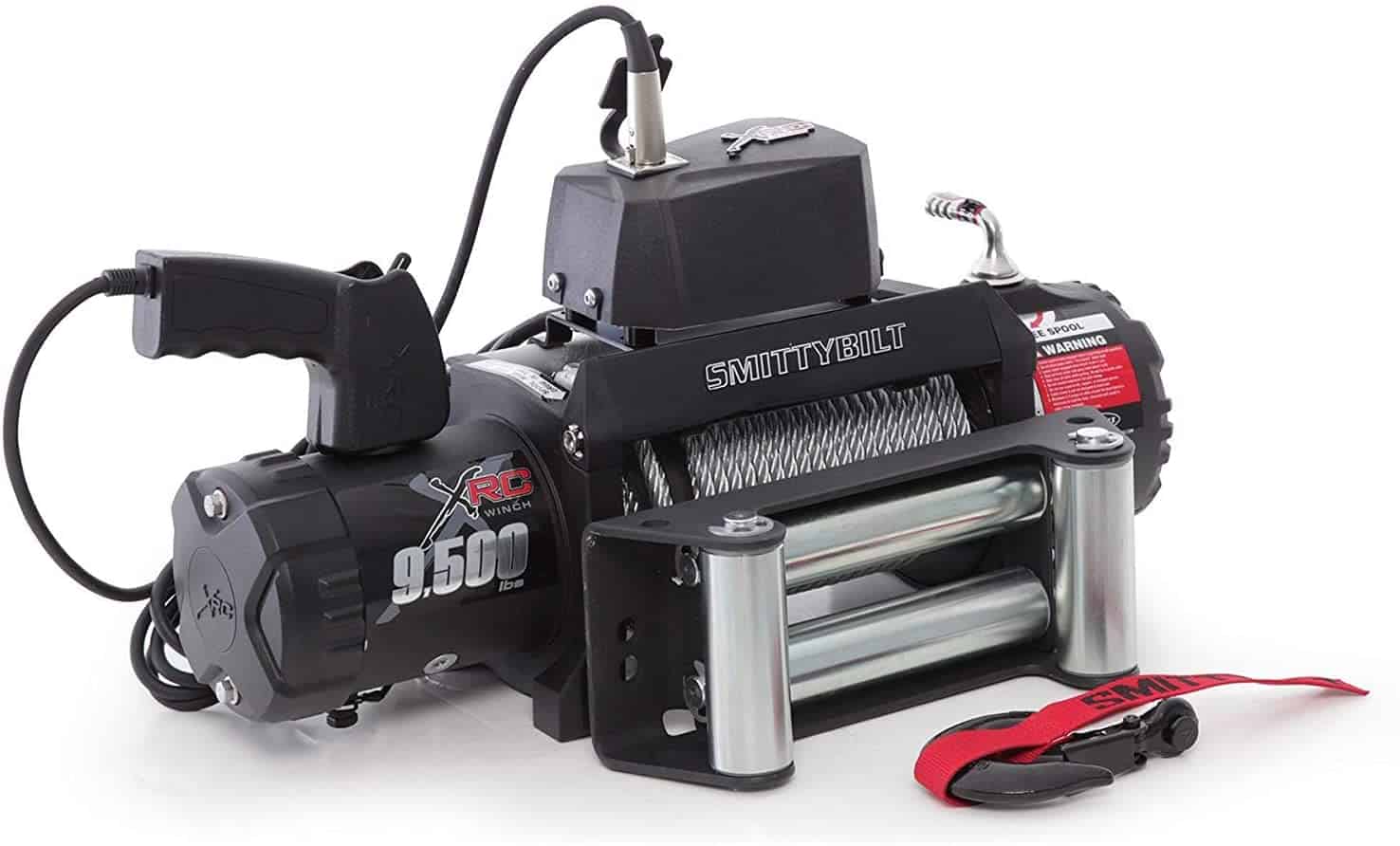 It is no secret among many winch users that getting a Smittybilt winch is a smart choice. Smittybilt has proven, time and time again, to its many customers that it deserves praise and love for its affordable quality. And thankfully, they always strive to meet the standards they have raised for themselves.
This first model can be easily installed onto the bed of your truck, it is a tiny bit shy of 2 feet in length, so it should easily fit. It is very easy to operate. It is works smoothly and is strong. It is very sturdy and can pass the test of time.
It has a load capacity of 9500 lbs. That is enough power to be able all sorts of tasks. Vehicle recovery, boat pulling, or loading heavy machinery onto the truck bed. This winch can handle them all. It is water and weather resistant. That is very helpful because you never know when you are going to need it.
It has a solid construction. Its steel cable rope is reliably tough. And it is compact enough to easily fit on a truck bed with a  good size like a Ford F-150.
Overall in terms of size, strength, durability and efficiency, this Smittybilt model is a great option that will not put a hole in your pocket.
PROS
Compact; good size for truck bed

Weather and water resistant

Highly durable

Easy to install

Easy to operate for most winching applications
CONS
Whole unit is not entirely metal

No synthetic rope option

Hook is can be stronger than it is
Warn ProVantage 4500-S
Warn is one of the heaviest duty names in the winch industry. Really, if you are making a list of the best of most types of winches, Warn will almost always make the cut. The thing about Warn, though, is that the name costs a lot; it is expensive. But if tried, tested, proven and undeniable quality is what you seek, then it is all worth it.
The ProVantage is one of Warn's best winch lineup. And for this review, we're looking at the Warn ProVantage 4500-S. This one has a pull capacity of 4500 lbs. While not as powerful as the previous product, you can still achieve a lot of productivity with this model.
As with almost all of Warn products, this model comes in both synthetic and steel cable options. It has a reliable gear, a waterproof motor and a sealed solenoid. You can work this winch in varying weather conditions without having to worry.
Reliable, durable, efficient – Warn hits the mark of quality with the ProVantage 4500-S. This is an ideal winch for your truck bed.
PROS
Very durable

Water and weather sealed

Compact

Easy to operate
CONS
Installation may be tricky
Champion Power Equipment 13004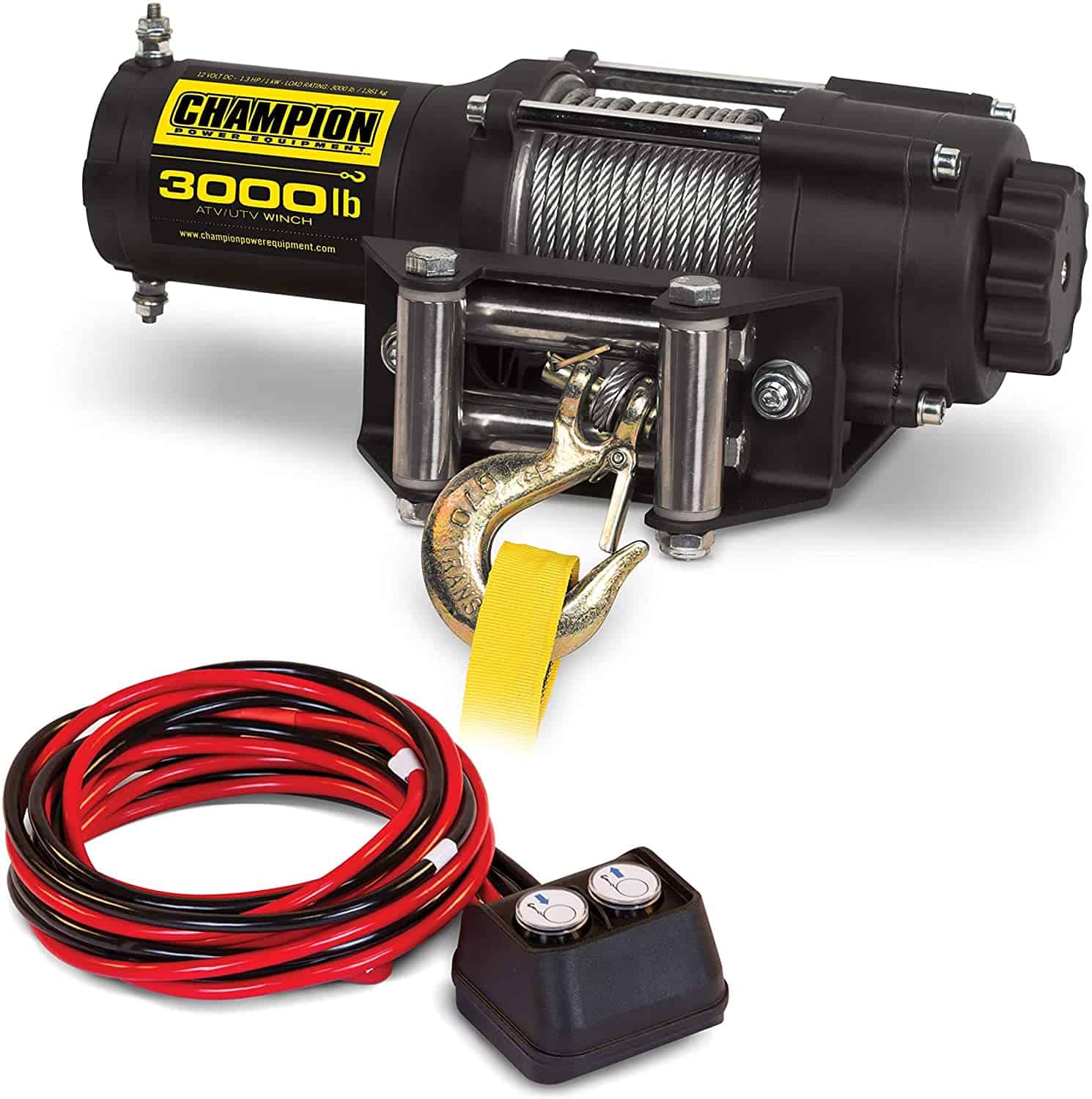 Choosing a Champion winch for a number a task is an easy decision. Champion Power Equipment is one of those brands that sell quality for a fraction of the price of others. Over the years, Champion has grown to be one of the well-known brands.
This winch has a 3000 lb load capacity. This can pull items such as ATVs, boats or engines. It is compact enough to easily fit on your truck's bed.
What makes this an easy decision is how convenient it is. It is very easy to install, and easier yet to operate. Of course it also does not hurt that it is very affordable but still maintaining reliability.
It is tough, rugged and is heavily protected from the elements. Although not as powerful as the other winches in this list, this can easily compete in terms of efficiency, durability and pricing. With the quality you are getting here, you are not only maximizing the use of your truck, but that of your bucks also.
PROS
Very affordable

Super easy to install

Easy to operate

Compact and perfect for pulling ATVs or UTVs
CONS
Quite slow

Remote buttons sometimes stick
Superwinch 1145230 Terra 45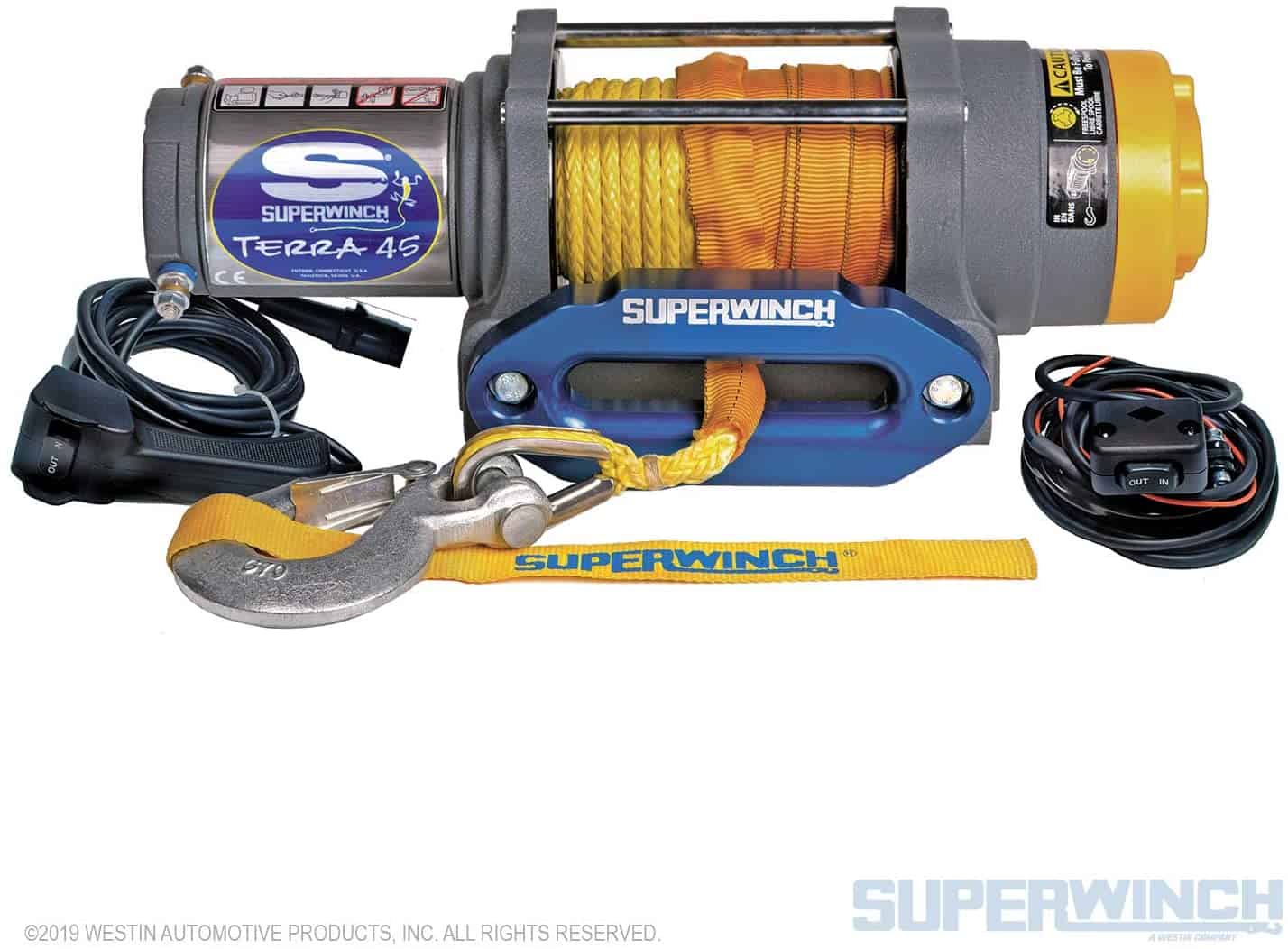 If you think that Champion Power Equipment is affordable, then you will be amazed by Superwinch. Terra 45 is one of their best models. It is highly cost-effective and it is great for a lot of winching operations.
This model has a load capacity of 4500 lbs. It is compact and easy to mount on the bed of your truck. It incorporates the use of a synthetic rope, which, in my opinion, is better than having a steel wire cable.
It has an electric motor that is sealed and is weather and water resistant. It has a low amp draw – so you can use it for longer. Not only will save up on the initial purchase, you'll also save up over time on car battery costs.
This is perfect for small vehicles and boats. It is protected – so you won't have to worry about it getting damaged when you have to use it in harsh environments. It is simple to use, simple to install, has a solid built, has a strong synthetic rope and has a wireless remote controller.
Overall, this is a winch you can enjoy for a number of years before it will show signs of wear. It is tough, rough and can handle arduous winching tasks. With this, you are getting a winch worth far more than what you spend on it.
PROS
Very affordable

Easy to mount on truck beds

Strong synthetic rope does not easily tear

Easy to operate
CONS
X-Bull EB0010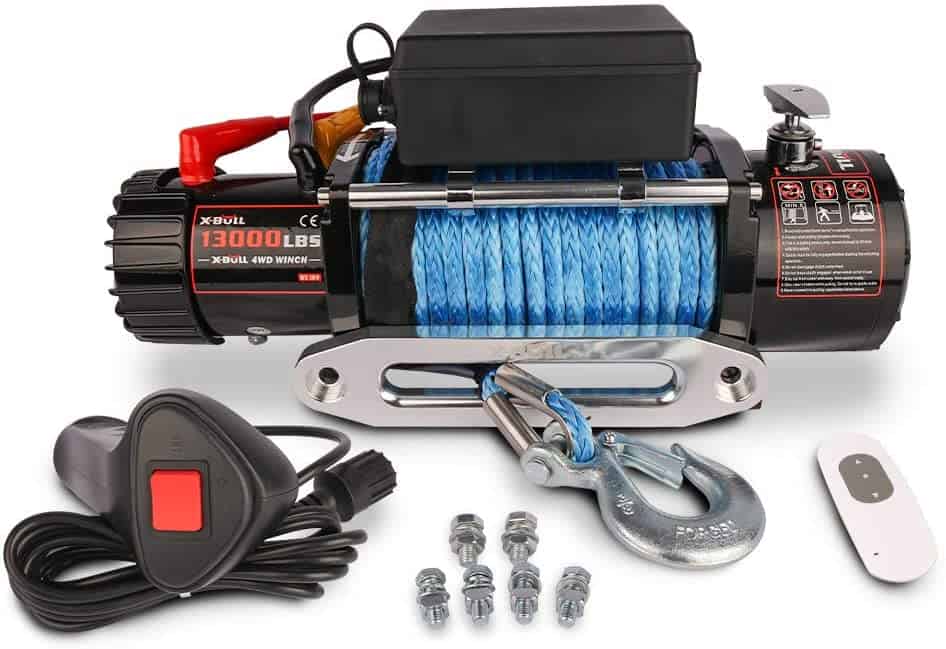 In this list, this winch model is the most powerful. X-Bull comes from the land down under and is known for their raw ruggedness. Power, strength and durability – those are the hallmarks of X-Bull winches.
This particular model has a load capacity of 13000 lbs. It is enough to be able to tow trucks and boats. It is very easy to mount on any flat surface, like s truck bed. It is equipped with a strong synthetic rope that does not easily tear nor fray.
This winch works smoothly, it is very easy to use – any winch operations you use with this will end up done in a breeze. It will not easily fail. It is heavy duty, and it can work even in the most extreme of situations.
With the X-Bull EB0010, you are getting a winch that will not only survive, it will thrive. It is very strong, it is very rugged and it is very efficient. And all of that for a very reasonable price.
PROS
Very strong

Extremely rugged, tough and durable

Smooth and easy operation

Easy to  mount

Highly durable synthetic rope
CONS
Mounting bolts not all included

Lever clutch is sometimes hard to move
If you want to know about the best winch manufacturers, see this guide!
Considerations Before Buying
To better help you make a wise decision in buying a winch for the bed of your truck, let me give you helpful parameters to consider.
The Load Capacity
This is always what I look for in a winch. The winch load capacity should be lighter than weight of your truck. Your truck shouldn't be carrying or pulling anything heavier than it is, it will break. So it stands to reason that the winch load capacity should not be above your truck's weight.
I would suggest that you get a winch that is more powerful than what you normally need. This is so that it can have more utility should unexpected emergencies arise. However, the load capacity also depends on another factor you should consider.
Budget
The bigger the load capacity, the bigger the price – that is common truth regarding winches. Of course there are more budget-friendly options, but these may sometimes sacrifice quality. That's why deep pondering is necessary to come to the smartest decision.
Durability
If you want to make the most out of your money, then a durable winch is a great option. This will ensure that you can use your winch longer and that you won't have to spend much on repairs and maintenance.
Look for features such as an all-metal construction, sealed solenoids, waterproof motors, weather resistant builds or corrosion resistant finishes. These will not prevent any potential damage, they will just lessen the risks.
Usability
Look for features that make the winch efficient, features that make it more usable. Features like an effective gear, a powerful motor, a complete winch kit, remote controls or being easy to operate, these features will make your winch so worth the money you spend on it.
To have a well informed decision in this regard, you should be educated in the important parts of a winch.
For a complete and more thorough winch buying guide, see our article dedicated on the subject.
The Best Truck Bed Winch – For You
Having a winch on the bed of your truck makes the truck a lot more useful and convenient, and these are the winches that are best suited for the job.
Whatever your needs are, you preferences and wants, there is a winch here that will perfectly suit you. The best winch is powerful, reliable, durable and efficient, and all of these winches exceed these expectations in their own ways.
Do you have a  question? Any thoughts? How about suggestions? If so, comment below to let us know! I'd love to hear from you.