There are many various types of winches in the market. There are the hydraulic, thermal, and electric winches. There are chainsaw winches, hand held winches and other types of portable winches. Portable winches are very useful because they can be used almost anywhere.
One form of a portable winch that's very useful are those that require only 110 volts to work. These are great because 110v is the normal outlet  output in the U.S. This means that you can use these winches anywhere there is an outlet.
To make things easier for you, I went out of my way to look for the best options for a 110 volt winch.
Let's get started right away.
110 Volt Electric Winch – The Best in the Market
RUGCEL WINCH ATV/UTV Electric Winch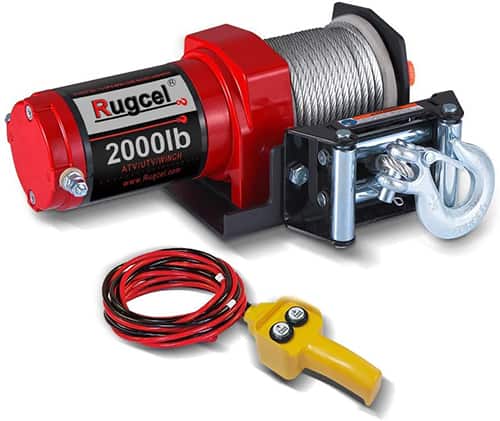 Rugcel winches are one of those affordable winches that still provide quality. They are so worth the price – they are such bargains.
This model has a rated line pull of 2000 lbs. It is compact and quite easy to operate. Although it only has a one stage planetary gear, which is not that efficient, it has a convenient pull-and-turn free spooling clutch.
It is equipped with a 49 foot long galvanized aircraft-grade steel cable. The cable goes through a roller fairlead. It is tough and resistant to both abrasions and fraying.
This Rugcel winch is backed by 3 years of limited warranty. A free lifetime technical support is also part of the package.
With the winch, you will also get a heavy duty hook, a protected mounted controller and a wireless remote.
Overall, I have no complaints about this winch in regards to performance and durability. It is tough, easy to operate, powerful and quite rugged.
PROS
Affordable

Tough

Easy to operate
CONS
Installation is quite tricky
Superwinch 1140232 Winch 2 Go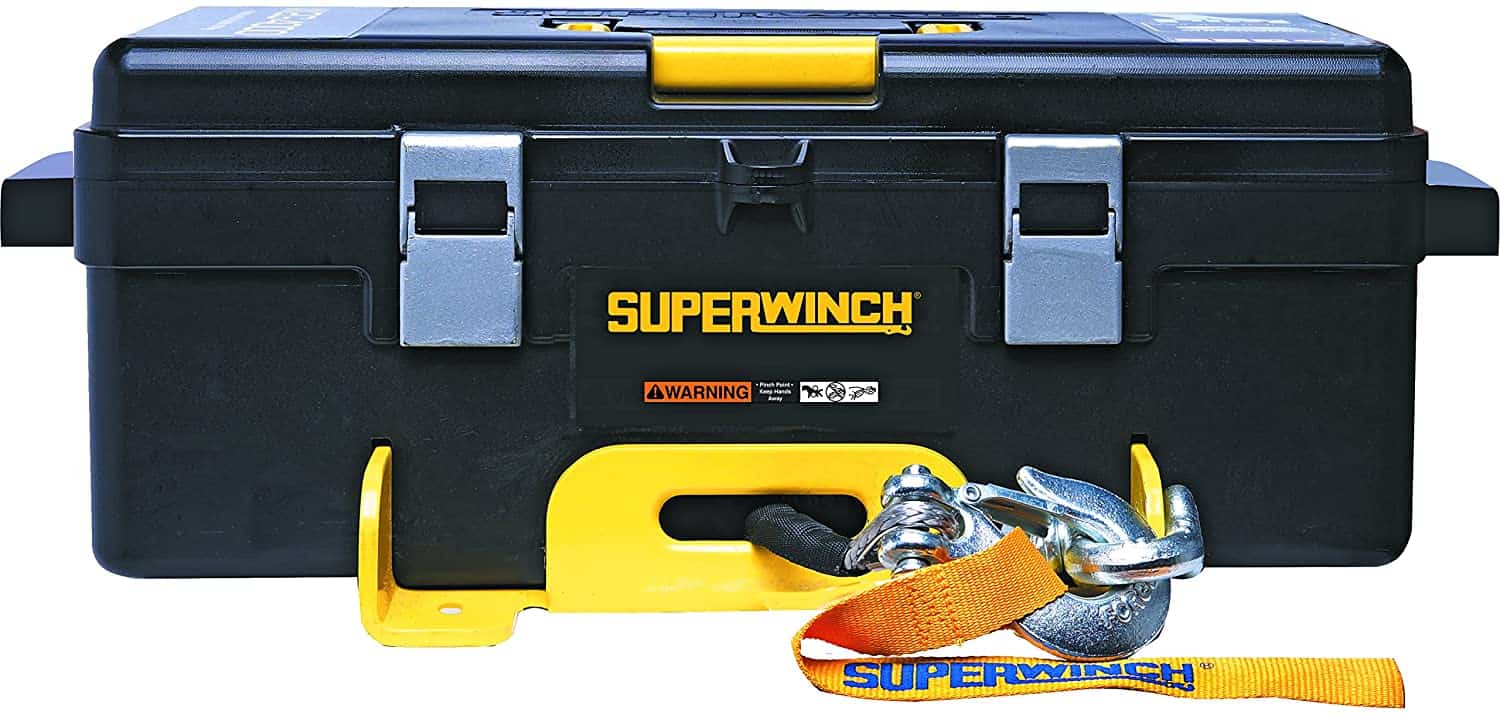 Superwinch is another affordable yet high-quality brand of winches. And for this particular model, convenience is the biggest asset.
This one comes with all of the winching essential accessories – a snatch block, D-shackles, straps, wired remote control, heavy duty hook and pair of gloves. All of these, along with the 4000 lb winch and 50 feet of winch line, are in a toolbox looking carrying case. That's right, this is a complete winch kit  that can be conveniently transported anywhere.
Another convenient feature I love about this winch is that it can be easily mounted on an ATV/UTV. It is portable – it can be plugged to any 110 volt outlet. But should you choose permanently mount it on your vehicle, it can be done.
This winch is compact, portable, as convenient and complete as 110 volt electric winches go. And all of that for a very afford-ably attractive price.
PROS
Highly portable

Very convenient

Powerful – up to 8000 lbs load capacity with the snatch block
CONS
Carrying case is plastic, quite flimsy
WARN 885000 PullzAll Portable Electric Winch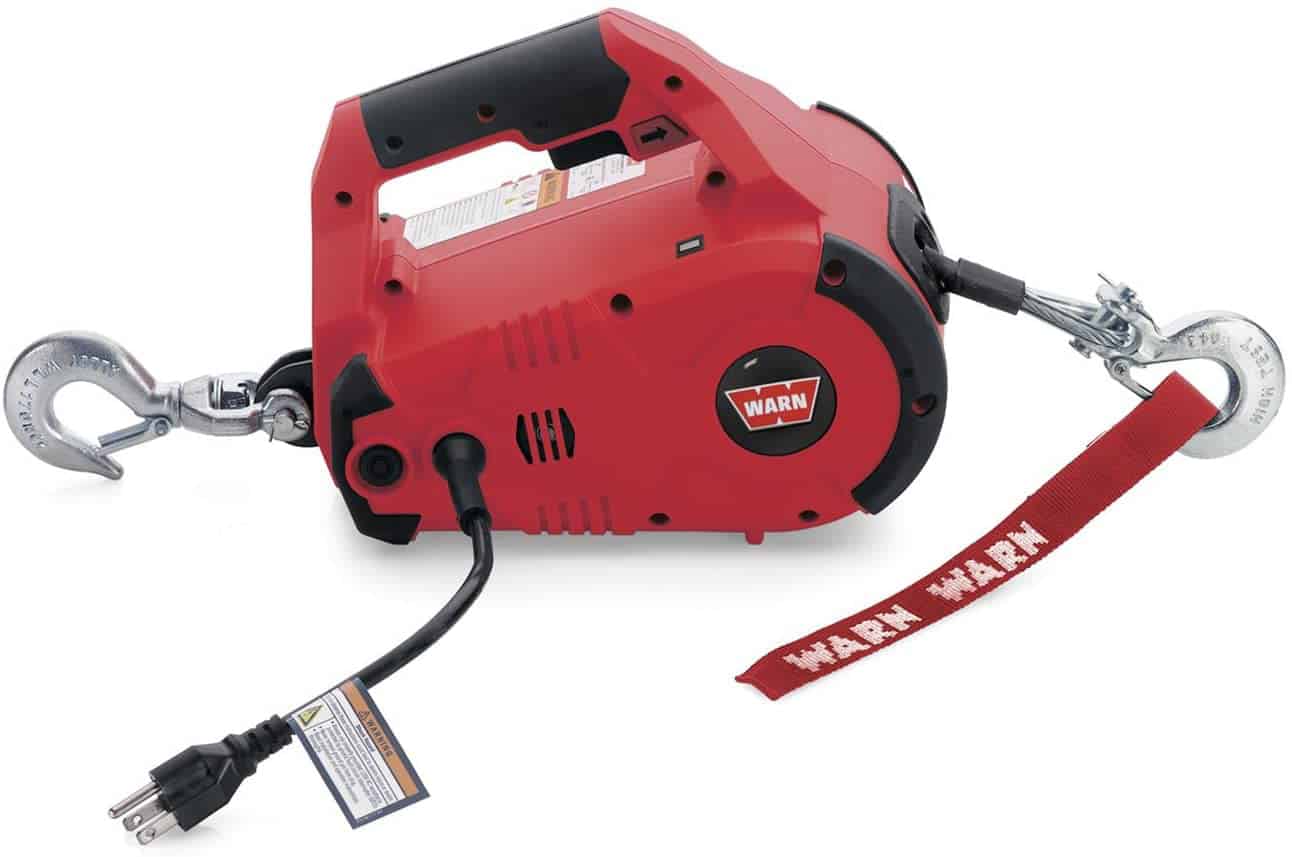 Warn is arguably the most trusted, most well-known, and most pricey of all winch brands. It is also regarded by many winch users as the best winch manufacturer (if you want to know more about the best winch manufacturers, see this informative article).
The Warn PullzAll is perhaps Warn's best portable winch. It is very easy to use, highly durable and very handy. It has a load capacity of 1000 lbs – it is especially perfect for garage or highly industrial applications.
It's very easy to operate. Just plug and play. It comes with its own heavy duty anchor hook, 15 feet of wire rope, and LED indicator for mid-operation feedback, and an electronic automatic load-limiter.
The other accessories included in the package are: a sling, a complete rigging kit, a car charger, and a rigging cable. This winch is two-directional – forward and reverse.
PROS
Highly durable

Light and compact

Very easy to use
CONS
AC-DK Electric Winch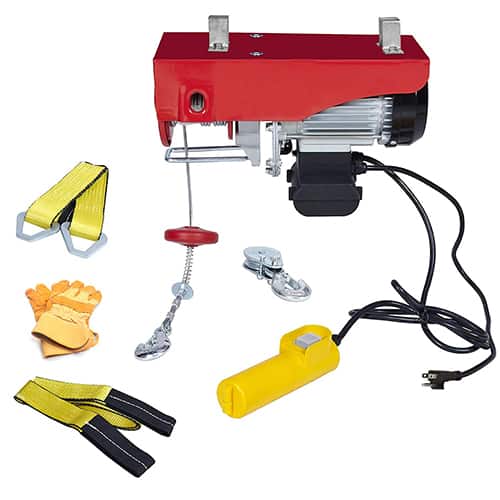 The next item on our list comes from an unknown brand. However, unknown brands almost always mean affordable. Worry not, though, this winch has quite the features as you'll soon see.
This 110 volt electric winch has an 880lb double line rated load capacity. It is good for hoisting or pulling in light-duty operations. It comes with a D-ring lifting strap, a pair of gloves, a hook and a sling.
A remote control with a 4.5ft lead is also included. For its price, you're getting a lot. It is portable and simple to use. And with all the accessories you are getting, it us quite convenient.
But then again, it's only a light-duty winch. Don't expect too much when it comes to durability. Still, you're getting it for a bargain.
PROS
Very affordable

Convenient

Easy to operate
CONS
Light-duty, not very tough
The Best 110 Volt Electric Winch For You
Judging the best 110 volt electric winch is very subjective. Each person has his own needs and preferences. At the end of the day, you have to consider your own standards in choosing.
If you need help in choosing the best winch for you, see our in-depth winch buying guide.
Are there other 110 volt electric winches you think are worth mentioning? Share your thoughts on the comments section below.