STIHL is one of the most successful chainsaw manufacturing brands in the market. It is a German brand that has expanded their operations worldwide. They specialize in providing the power in chainsaw power-tools. Because of their reliability and raw power, STIHL chainsaws are very good options for chainsaw winches.
However, in my search for the best chainsaw winch compatible with a STIHL chainsaw, I have discovered relatively unknown winches. These are not the best chainsaw winches, per se, but they are the most compatible with a STIHL chainsaw, in my opinion.
Chainsaw winches are good because of the portability that they provide. But if you don't have a STIHL chainsaw, or any other chainsaw, then you might want to consider other portable winches.
The Best STIHL Chainsaw Winches
Lewis Chainsaw Winch 400 MK2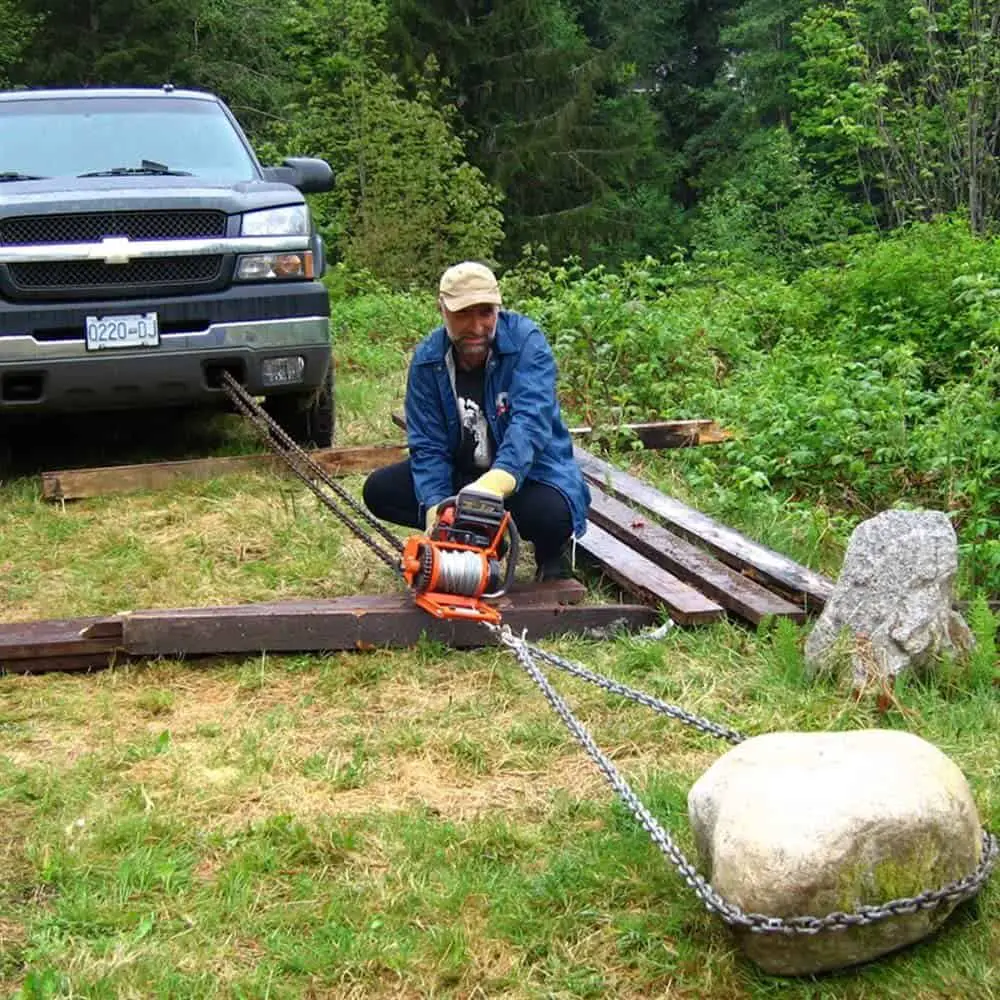 This first unit is very heavy duty. It is very powerful. It is very versatile. As a chainsaw winch, it doesn't need a power source except a chainsaw. And if you want a powerful power source, then STIHL is your best bet.
This unit comes with a 150foot long steel cable. This is very easy to transport. It conveniently only weighs about 35 lbs, steel cable included. It is also conveniently easy to mount to your STIHL chainsaw. Just remove the cutting bar and replace it with the winch.
This is not only a portable winch. It is also a utility winch. It can be used for vehicle recovery, basic forestry, plowing or light industrial jobs. It is capable of handling loads up to 4000 lbs.
To get the most out of this winch, you should try to at least use a 5 cubic inch or 85 cubic centimeter (cc) chainsaw. Overall, this unit is easy to operate, convenient and powerfully efficient.
PROS
Durable

Super portable and easy to mount on STIHL chainsaws

Powerful

Heavy duty

Very easy to use
CONS
Price is a tad higher than I would assume to be appropriate
Powerhouse Lewis Chainsaw Winch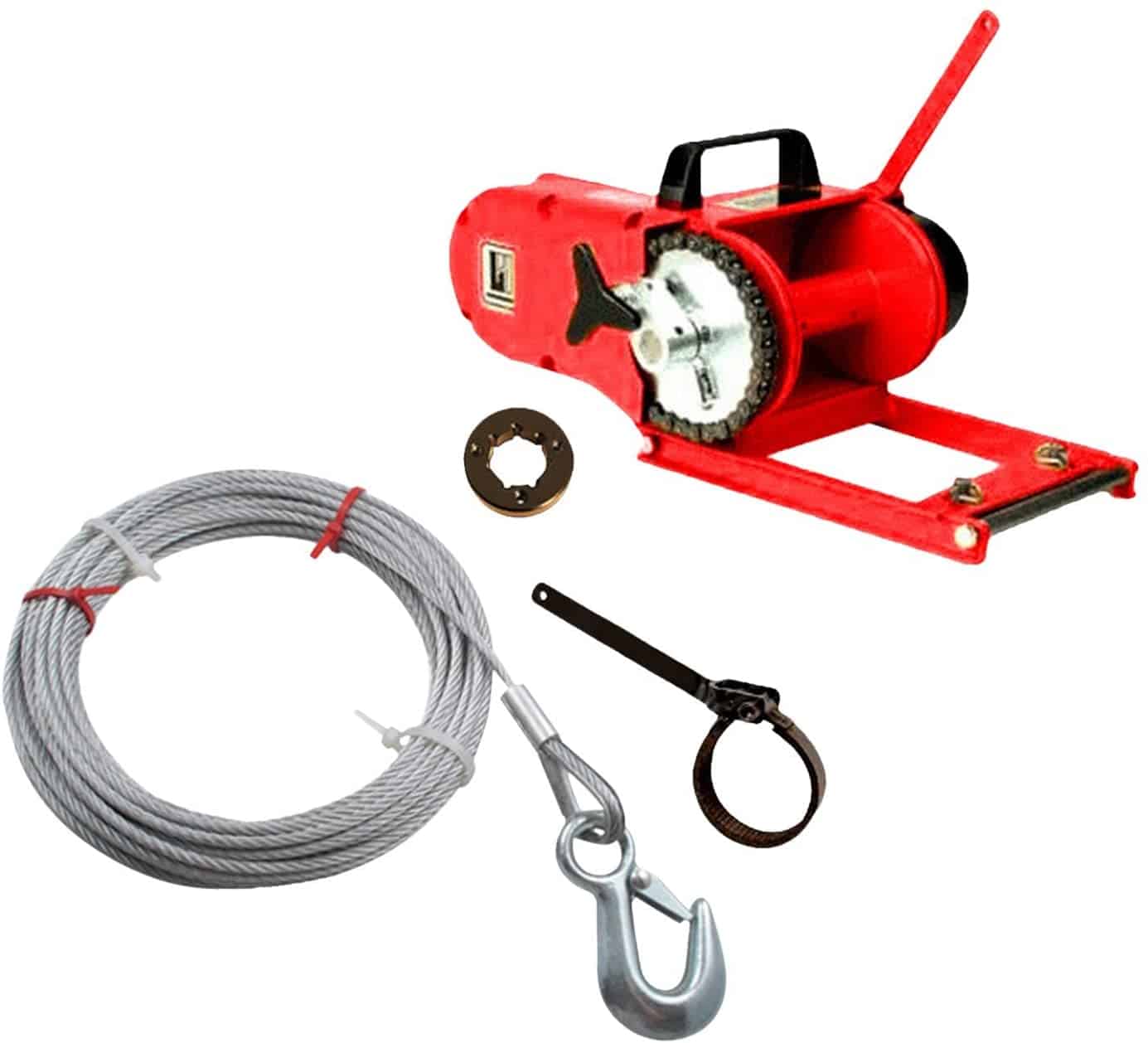 This is almost the same as the previous winch. It comes from the same manufacturer and they share a lot of features.
However, this does have its own little differences. This comes with a plastic handle and a plastic locking knob. This is a budget version of the previous model, so you can expect some features that make this unit a little more flimsy.
Since this is the less durable unit of the two, I would expect that this should only be used for lighter duty winching. Of course, if you don't normally need a winch, then this is the better option for you.
This also is easy to mount on a number of STIHL chainsaws.
PROS
Easy to use

Easy to mount on STIHL chainsaws

Powerful

Affordable
CONS
Made for lighter duty use
About the Brand STIHL
STIHL is a German manufacturers of chainsaw. It also manufactures other hand held power equipment. Although headquartered at Waiblingen, Germany, they have reached a worldwide array of consumers. Today they have a branch in the US.
The company was founded by Andreas Stihl, who patented his first chainsaw in 1926. The saw quickly rose in popularity and the name Stihl soon grew to be synonymous with professional grade chainsaws. Slowly, the company became the top selling chainsaw company in the world; a title it has retained until today.
Since their initial birth, STIHL has expanded their manufacturing prowess to home-use equipment like line trimmers, blowers and edgers. Because of the rise in demand from both the construction and landscaping industries, STIHL expanded their field of expertise into these markets.
As of 2008, STIHL has opened branches in the United States, Brazil and China.
If a chainsaw for a chainsaw winch is what you need, then STIHL is the option that been tried, tested and proven. For almost a decade now, STIHL has shown the world that theirs are the best chainsaws you can use.
STIHL Chainsaw Winches
There are very few chainsaw winches in the market today. Thankfully, the ones that are worthy of your time and money are compatible with chainsaws that are proven to be the best. These chainsaw winches are not only the best, in my opinion, but they can also exceed expectations when partnered with the world renown STIHL chainsaws.
If you are looking for other types of winches, see our dedicated article on the subject.
Are there other chainsaw winches you think are better suited to a STIHL chainsaw? Or do you think that there are other chainsaw brands more worthy than STIHL? If so, share your thoughts in the comments section below. I would love to hear your opinions.