The Warn winch 8274 model is the most recognizable Warn winch product. First released on the market in 1974,  this model is known for its quintessential Warn quality. Today, 47 years later, this winch is still popular among offroaders.
As reliable this model is, it is not immune to damage. Its parts lose their effectiveness over time. That's just how things and time work. One of the parts prone to the wearing and tearing effects of time is the solenoid.
Don't throw out the winch yet, though. Solenoids can be replaced. As long as the replacement solenoid can take more than the AMPS the winch motor draws.
If your Warn winch 8274 model has a malfunctioning solenoid, here is a list of viable replacements.
GELUOXI Albright Equiv Heavy Duty Winch Solenoid 12V (B01JRUPKPI)
This solenoid from an unknown brand is an EXCELLENT option. Though unassuming, it actually does the job perfectly! It's a 12 volt solenoid that is compatible with winches with up to 17,000 lb capacity. That definitely includes the Warn 8274 model.
What's great about this solenoid is how heavy duty it actually is. It is slightly waterproof, which is a great feature for something totally electrical. Installation is as easy as any other standard winch solenoid out there. Installation and operation manuals are included in the package. Though they are not clear enough to help inexperienced winch users.
For those who have done solenoid installations before, installing this product is as easy as one, two, three. The mounting bracket is already pre-fitted for easy installation into the control box.
Also included are protective boots meant to shield the terminals from the elements and from being moved. However, the boots might be small for the Warn 8274 winch model.
But overall, this product is an excellent Warn winch 8274 solenoid replacement.
Pros 

Cons

Well worth its price

Heavy duty

Easy to install

Installation and operation manuals not very helpful for inexperienced winch users
ORCISH AY1-AT12 12V 500A Winch Solenoid Replacement (B07MS7X8BN)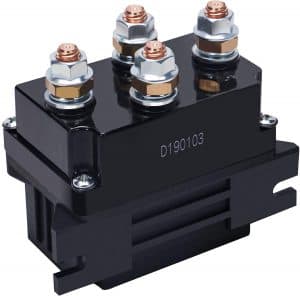 In terms of value, this ORCISH 12 volt 500 amp winch solenoid replacement might be the cream of the crop. It is definitely the cheapest option. But it that does not diminish its quality.
Like the previous product, it is also sealed. That offers a bit of a waterproof feature. It will still function in light rain.
It is compatible with wireless remote setups, with a capacity ranging from 8,000 lb to 15,000 lbs. Either a series wound or a permanent magnet motor will work with this product.
Installation is easy for experienced users. It's pretty straightforward with its quick connect/disconnect bullet connectors. There's an installation manual in the package, but it can be hard to follow.
In terms of performance, it's everything you can expect from a perfectly good 12V 500 AMP winch solenoid.
The main selling point of this product is how affordable it is compared to other solenoid replacements compatible with a Warn 8274 winch. Even though not as pricey as other options, it still performs just as fine.
Pros 

Cons

Very affordable

Sealed and corrosion resistance

Sturdy construction

Customer service is inconsistent
SINOKING 5841740917 12V 500A Winch Solenoid Replacement (B07KG7CZT4)
If you value raw ruggedness and durability above anything else, this SINOKING winch solenoid replacement is your next best purchase. Why? Well, it features an IP67 waterproof rating. That's a lot of waterproof rating.
Aside from the waterproof rating, this product is also corrosion-resistant. You can expect a lot of use out of this solenoid replacement. Basically, it's a lot of bang for your buck.
As for installation, it also has a pre-cut mounting bracket that makes it easier to install in the control box. There is no wiring diagram included in the package though. But its installation is the same as most other solenoid replacements.
It is a 12v solenoid that is compatible with winches with a capacity ranging from 8,000 lbs to 12,000 lbs.
Pros 

Cons

Waterproof

Corrosion resistance

Heavy duty
Learn What You Can About Winch Solenoids and More
On this site, we offer tons of winch- and off road-related guides, articles, reviews, and instructions. To be better equipped in taking care of your winch – its parts and how to use it – we suggest you take a look at what we have to offer.
Need help bench testing the parts of your winch? See our Bench Testing guide.
Don't know how to install a winch? Learn it step-by-step!
Not sure what winch capacity you should purchase? We've got you covered!
Is your winch cable worn out? Then get only the best winch cable replacement!