Winches are good partners in any off road adventures. They are investments that need to be protected because they protect you. Winches protect you from worries and from frustrations. Winches help make sure that you are confident in your off road trips. With a trusty and reliable winch installed on your 4×4, you can brave through any wild terrain because you know that nothing can stop you.
However, winches can only go through so much rough and hostile environments before showing signs of breakage. No matter how durable you winch is, it is not unbreakable. It has its limits. That is why you have to do what you can to protect it.
Aside from regular maintenance, one other way to protect your winch is by getting it a winch cover.
The Benefit of Having a Winch Cover
First and foremost, a winch cover does not make your winch as tough as a diamond. However, it does provide a layer of protection for the winch and its accessories.
Small particles such as dust is one of the slow destroyers of any piece of machinery. In fact, a reason why regular maintenance is important to make sure your winch lasts is because maintenance includes cleaning the insides of a winch. Dust, sand or dirt can penetrate the armor of your winch. They lodge themselves snugly on whatever comfy crevice they can find in your winch motor, gears and wiring. And this slowly damages your winch.
Aside from slowly damaging the insides of the winch, dust and sand particles also tear the winch cable or rope slowly. If your winch line is a synthetic rope, a winch cover may actually be quite necessary. Small particles break synthetic ropes a lot faster than steel wire cables. A synthetic rope is more vulnerable to abrasion. Also, although most synthetic ropes have UV protection, a winch cover may offer a better UV protection if your 4×4 sits in the sun.
A winch cover is a great way to provide protection from these small particles. Whenever your winch is not in use, it might be a good idea to put a winch cover on it.
The Disadvantage of a Winch Cover
A winch cover does not come with its drawbacks, though. Just as it guards dust and sand and such particles from getting into the winch, it also prevents moisture from escaping out of it. If you are living in a humid place, it might not be a good idea to put your winch in a winch cover.
In such a scenario, the winch cover will trap all of the moisture inside the it, with the winch. This is harmful for the winch. Although a lot of winch models today have powder coating that gives a layer of protection against corrosion and rusting due to exposure to water or moisture, it is better to not test that protection to its limits.
Trapping all of the moisture with a winch will most likely weaken the integrity of the winch.
Smittybilt X20 Winch Cover Model 97281-98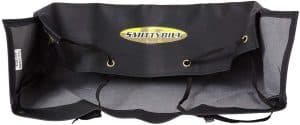 One of the best winches worth their costs is the Smittybilt X20. This is a winch model that you want to protect. The question is, can the Smittybilt 97281-98 winch cover provide the protection the Smittybilt X20 deserves?
First off, let's talk about fit. The Smittybilt 97281-98 winch cover is advertised to fit all Smittybilt winches. And it does. It fits the XRC8 and XRC10 quite perfectly. However, it needs a little work to make it fit the Smittybilt X20 model. It needs some tug here and a little pull there to cover the entirety of the winch.
The cover has some strings on it that adjust the opening of the cover (think of a drawstring bag). There are no instructions on how to make it fit an X20, but it does not take an Einstein to figure it out. It is not rocket science. All you need is a little common sense, a fair amount of spatial intelligence and some basic problem solving skills.
However, once the fairlead enters the picture, it becomes more challenging. In this case, this Smittybilt X20 winch cover is not convenient. If you are really decided on putting on the cover, you would have to first uninstall the fairlead, or perform a miracle and actually make it fit. Some people just have a knack of making things work for them.
The dimensions of this Smittybilt X20 cover is 6 inches wide, 10 inches tall and 22 inches long.
Next up, let's talk about the material of the cover. It is thick. It has a vinyl construction that is very heavy duty. This may be both a good and a bad quality depending on your geographic situation. As explained above, a winch cover helps protect your winch and the winch line from UV rays. The thicker the material is, the better it can protect.
However, if you live in a place that tends to get moist, a thick winch cover is not your best bet. Your winch will get so sweaty inside a thick winch cover.
Overall, the Smittybilt 97281-98 winch cover is a good winch cover for its purposes, unless you live in a region with a humid climate. This winch cover can fully protect a Smittybilt X20 model, and other Smittybilt winch models. It is strong and durable. It can easily protect your winch from sand, mud, dust and maybe even rain. It is definitely a good layer of protection against the sun's UV rays. It is quite affordable, as far as winch covers go. And it gives quite a good aesthetic to the winch. The only problem with it is you might find it hard to make the Smittybilt X20 winch fit in it.
Does the Smittybilt X20 winch cover deliver? I definitely think so. It is not perfect, but it serves its purpose and meets expectations.
Pros
Cons

Very strong and durable
Quite affordable
Can fit Smittybilt winches, including the X20 model

Adjusting it for a perfect fit takes a little bit of effort
Check price here.
Do you think there is a better winch cover for the Smittybilt X20 winch? What do you think of this winch cover? Can you make it fit your Smittybilt X20? Share your thoughts in the comments section!
There are a lot of informative and educational winch articles on this site. Here are a few that you might find interesting.