When it comes to winches, there are a lot of names out there. There is of course, Warn, which most off road riders consider to be the king of the off road. But there are other names that provide very high-quality off road tools at lower costs. For this guide, we are specifically looking at Smittybilt winch mounting plates.
The Smittybilt Brand: What is it All About?
Smittybilt has its roots going all the way back in 1956. it started as a small machine shop called Rock-ett Products, owned by Basil Smith, also known as "Smitty". Smitty was one of the first four wheel drive enthusiasts, and his son Tom followed his footsteps. Soon, the Rock-ett Products machine shop was renamed Smittybilt.
Tom, who was exposed in the four wheel drive industry pretty much all his life, was able to develop innovative and revolutionary four wheel drive product ideas. His ideas soon helped grow the entire of road industry.
Over time, Tom developed more ideas including Smittybilt's very own Nerf Bar side step and the tubular front and rear bumpers for Jeeps.
Today, after more six decades, Smittybilt is one of the leading brands in the off road industry.
What is amazing about Smittybilt is that they provide great value at lower costs than what other brands offer. The simple trait of affordable quality is something that makes the brand unique.
The Importance of a Winch Plate
The mechanical parts of a winch, which includes the winch, the line, the hook, the mounting plate and all of the doodads, is like a length chain. Each part is like a chain link. The entire set is only as strong as the weakest part, or the weakest link.
If the rope can only handle 1000 lbs of weight, the entire winch is only good for pulling up to 1000 lbs of load. The same principle applies to the winch mounting plate. If it is not strong enough, or has a compromised integrity due to damage, then the entire winch is only as useful as the winch plate.
With that in mind, it is important to make sure that you have only the best winch mounting plate. It should be tough, perfectly fits your winch, durable, and can serve your purposes quite well.
Why Choose a Smittybilt Winch Plate
As was mentioned above, Smittybilt provides great value at costs lower than that of some of its competitors. Smittybilt is a good option if you want to make sure that you don't waste a ton of money on a winch plate that will fall apart after two seconds of pulling.
Besides, not all of us are made of money. Not everyone can afford to spend tons of cash on a good quality winch mounting plate. Some of us need a more budget friendly, affordable and economic option.
That option might just be a Smittybilt winch plate.
Smittybilt 2804 Winch Mounting Plate (B003NNYZZ2)
This Smittybilt winch plate is specifically designed to fit a stock front bumper of a Jeep Wrangler. Now the problem with such a design is that it might seem to be a good fit for all Jeep stock front bumpers. That is quite true, but there is only a very minimal adjustment needed to make it fit different Jeep models. Based on what I have seen so far, the Smittybilt 2804 winch mounting plate fits most Jeep Wrangler models like a glove, from 2010 to at least 2017 models.
It is powder coated, so there is a layer of protection against corrosion. It can remain durable for quite a long time. It is made from steel at least 1/4 inch thick. The plate can support a winch with a capacity of up to 10,000 lbs.
It is a raised winch mount, so a roller fairlead can be used with it without a problem. There is one major problem with it, though. The installation manual leaves a lot to the imagination. It can be a headache to install.
But once it is installed, it is sure to impress. It is very tough, very sturdy and looks so fine.
Pros
Cons

Durable and Strong
Up to 10,000 lbs of load capacity
Can fit most Jeep Wrangler models
Great value for your money

Installation may become challenging
Smittybilt 76801 XRC Front Bumper with Winch Plate (B003EOZH6Q)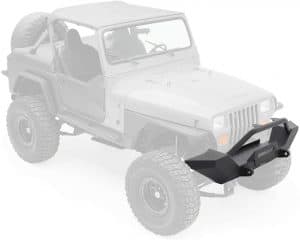 This other Smittybilt winch plate model is a bumper with the plate integrated on it. This bumper has a two stage powder coated, so it has a layer of protection from rusting and corrosion. It is made form a 3/16 inch cold rolled steel. It has all of the mounting hardware needed. It has D-ring mounts welded both in and out. It has two light mounting tabs. It can fit a lot of Jeep Wrangler models. For some models, a specific mounting bracket may be needed to install the bumper with winch plate securely.
The built in winch plate has a wide opening so it is easy to install a winch on it. It has raised corners to maximize ground clearance. The bumper can accommodate an 8 inch fairlead.
The bumper is quite easy to install, it might need a fair amount of work, but it can fit snugly. It is well worth its price. Just make sure that the winch can fit the winch plate before purchasing.
Pros
Cons

Strong and durable
Easy to install
Winches can be installed easily on it
Great value for your money

The bumper and winch plate can't be separated
The Last Word
Smittybilt is a reliable brand for your winching needs. There is no need to break the bank just trying to get your hands on good quality off road accessories. Give these Smittybilt winch plates a try. Chances are, you will not regret it.
Do you have any comments? Any thoughts about these Smittybilt winch plates? If so, share them in the comments section below. We love hearing from you.
We have a lot of other helpful guides in this site. Check them if you have any questions about winches in general.