Winches are one of the best utility accessories you can add to your vehicle. Whether it be for your off-road adventures or just a simple utility task, winches can come in handy. How does a winch help you exactly? To find more about that topic, simply look into this article. 
If you want to get some good winches, Warn winches are undoubtedly the best in its class. No other manufacturer can ever come close to them. However, not many of us can afford such exorbitant prices offered by Warn winches. So some consumers look into other manufacturers instead.
Although these manufacturers are not as impressive as Warn winches, they are still a worthwhile purchase. Among the cheap winch manufacturers, one particular company stood out from the rest. I am referring to the manufacturer Smittybilt. 
Smittybilt Overview 
Both Smittlybilt and Warn offer myriad automobile accessories for off-road use. But the chief of their lineup is, of course, the winches they sell. Warn is offers the highest quality winches—just like how Apple smartphones are the best smartphone you can have. Although the Warn winches are the highest you can get, it doesn't mean you should underestimate Smittybilt.
Smittybilt is the second option among many customers. Their winches can almost be as durable as Warn winches. Plus, it is affordable for most of us! So how come their products are cheaper than Warn winches? Because they are manufactured in China.
I know how many of us are put-off by Chinese-made products. But don't let that stand in the way of getting a good winch. Smittybilt is still American-made—well, sort of. It is indeed made on Chinese soil. However,  the winches are designed in the United States.
Before you decide whether to have Smittybilt winches are worth it or not, we will let Smittybilt themselves answer that for you. In this article, we will compare Smittybilt winches to Warn winches. We can see how good their products are and see if many customers are satisfied with them. 
For an in-depth analysis between the two manufacturers, simply keep reading!
Smittybilt Winches 
Smittybilt X2O COMP – Waterproof Synthetic Rope Winch – 10,000 lb. Load Capacity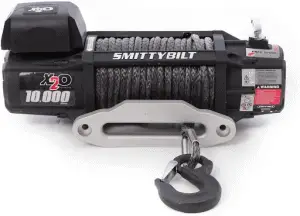 This 10,000-19,500 lb. capacity Smittybilt winch is one of the most advanced and the finest winches currently in the market. You will get more than you paid for! Imagine any situation or hard work this winch is going into, and I assure you, it will survive. (The 19,500lb rating pull is achieved through the use of a pulley block)
It sports a 6.6 horsepower motor with a gear ratio of 218:1. In short, the pulling operation of this winch is fast and efficient. With this winch's weight-rated capacity, you can pull almost anything effortlessly!
That's not all! This winch has stainless steel hardware, 2 Solenoid Mounting Options, a braking system, and a lifetime mechanical or a 5-year electrical warranty. Plus, it's completely waterproof! You won't have problems traversing mud and shallow water with this winch installed. 
You can either control this winch wirelessly or through a 10-foot cord. Both of these options are already in the kit, no need for additional purchase.
To know how to install this winch, Smittybilt already has a detailed pdf guide on how to do it. But if you are having trouble learning how to install a winch, please look into the How To Install A WInch guide. 
Customer Satisfaction
Customers that have bought and used the winch expressed deep satisfaction with their purchase. They are happy with the winch's reliability, performance, and for its ease of use. In AMAZON online store, it has a rating of 4.7 stars out of 5. It was rated by 1,800 different individuals.
For this product, Smittybilt has shown itself as a worthy competitor against Warn winches.
Smittybilt GEN 2 XRC Winch | 9,500 Pound Load Capacity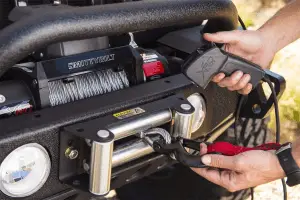 And yet again, Smittybilt has another product that exudes quality. This time, however, we have a smaller rated weight capacity of 9,500lbs. It can do as much as the previous product, albeit a bit less. However, it is enough to recover yourself in off-road terrain. With a pulley block, you can increase the weight capacity of the winch t 17,500lbs. To know how this works, check out our article How To Use A Winch Pulley Block.
Just as the same as before, it has a 6.6 horsepower motor. A 3-stage planetary gear supports the motor; this ensures that pulling is done fast and efficiently. The entire winch housing is also waterproof, and even the solenoid itself is also waterproof. 
The winch kit comes with a complete set of wiring kits to help in the installation. You can also choose to control the winch either wirelessly or through a cord. 
Customer Satisfaction
Many customers also have praised this product. They love its performance, durability, and the fact that it's completely waterproof. 
However, recently, some comments have expressed some dissatisfaction with the product. They claim either the winch stopped working completely after purchase or unsatisfactory customer support. Either way, consider what they have to say.
But for the most part, in AMAZON online store, the winch has high ratings. It has a 4.7 rating out of 5, and it has been rated by 2,400 individuals. It seems that the majority of them have no problems with the winch whatsoever. 
Warn Winches
WARN 103253 VR EVO 10-S Electric 12V DC Winch with Synthetic Rope: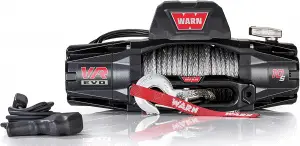 This 10,000lb rated-weight capacity winch is the most advanced compared to its counterparts. It offers a 12v -volt DC motor with a 3-stage planetary gear train system and a cast-iron fairlead. It ensures that once the winch starts puling, it is fast, efficient, and durable. Its cables or other parts will not snap under pressure. 
However, this winch is also made in China. Warn offers American-made winches if you choose premium ones. But since this is a cheaper option, they had it made in China. Nevertheless, tight quality control is still strictly enforced in Warn winches.
It has an IP68-rated waterproof construction, ensuring that traversing mud or water will not cause any corrosion. For the controls, you can either use wireless or cords. Both of them already comes within the kit, no need for any additional purchase.
 For warranty, it has a limited lifetime warranty but only seven years for electrical warranty. 
Customer Satisfaction
Many are deeply satisfied with this winch purchase. Customers say that with Warn winches, nothing can go wrong with it. The same holds true for this winch. It is durable, fast, and efficient. Able to pull half-ton pickup trucks, SUVs, and jeeps.
It has a rating of 4.8 stars out of 5. This product was rated by 570+ different individuals.
WARN 103255 VR EVO 12-S Electric 12V DC Winch with Synthetic Rope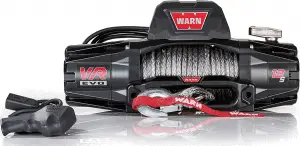 This winch is one of the most powerful—if not the most powerful—winch in the market. It is the pinnacle of innovation and quality among winches. 
It offers IP68 waterproof construction, an efficient 12-volt motor, a three planetary gear train, and is compatible either with synthetic or cable ropes. The body's construction is a one-piece cast-aluminum. This ensures that the winch is robust and able to withstand constant use. It is designed, manufactured, and tested in the United States. 
By purchasing this product, you can be absolutely sure that nothing will go wrong with it. For warranty, it has a lifetime warranty and a 7-year warranty for electrical circuits.
Customer Satisfaction
Customers are very satisfied with this purchase. With this winch, they can pull almost any vehicle. Even with constant use, the winch can endure it and even last long!
It has a rating of 4.8 stars out of 5. This product has been rated by 500 people.
Which Is Better?
Warn winches are undoubtedly better on all occasions. Whether it be durability or efficiency, nothing can come close to it. It is the best money can buy—if you have the money! 
Warn winches are worth the investment. However, not many of us can afford it. And if you can't afford it, you better look at the next best thing, which is Smittybilt winches.