A winch has numerous parts that each play a key role in making the winch work. There are the motor, winchline, fairlead, mounting plate, remount control, hook, clutch, and many more. Most of these parts can be replaced easily, such as the hook, winchline, and the fairlead. However, some parts are quite complex to work with, specifically, the motor and the solenoid.
A solenoid is one of the most important parts of a winch. It's delicate and very susceptible to damage, and that's why this part is specifically designed to remain within the car's hood. Replacing a solenoid isn't something that you should do on a whim. You need to put more careful consideration before purchasing one.
What if you put any type of solenoid for your winch? Well, you have increased your risks of electrical problems, and it will set back you hundreds of dollars. And not only that, but you also risk damaging your car's battery and your winch's motor and electrical components.
If you are looking for a replacement for your Harbor Freight Winch Solenoid, then you have come to the right place! Here are some of our solenoid recommendations for your harbor freight winch.
Solenoid Replacements
KanSmart 12V 250A Winch Solenoid Relay Contactor Thumb Truck for ATV UTV 4×4 Vehicles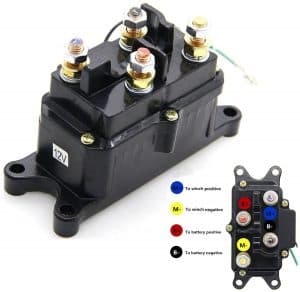 This is a 12volt and 250A solenoid relay. It is compatible with many winch brands and especially works well for ATV and UTV winches. As long as you have a 12volt winch, then this solenoid can certainly do the job. 
It comes with a set of instructions that makes this solenoid very easy to install. Even if you are a beginner yourself, you shouldn't have a hard time installing this solenoid. Each of the wires has different colors designated to it. So just connect them to the right places according to what is written in the instructions. Green and Black wires are to be connected to the switch controls. Black and red wires go to the battery. And finally, the yellow wire goes to the motor.
The solenoid also features a solid metal housing. So it shouldn't encounter any problems with any weather conditions. Lastly, the main feature of this product is its Lifetime Warranty. So if you have any problems, simply contact their customer support. 
BIGTUR 500A 12V Winch Relay Solenoid Replacement Contactor for 8000-15000lb ATV UTV Truck 4WD 4×4 Winch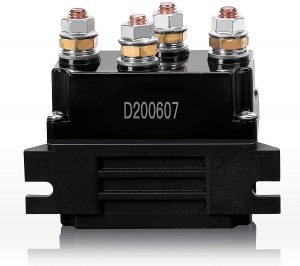 Do you want something that can handle more juice? Then this solenoid is for you. This solenoid is made for those that have some heavy-duty winches, like 8000-15000lbs heavy duty. It is compatible with most brands of winches, and it is compatible with wireless remotes too. 
For installation, the instructions are easy and precise. Even the average Joe shouldn't have a hard time. However, for wireless compatibility, you might have to tweak the settings to establish a stable connection. Just follow the instructions carefully to use them effectively. 
For a heavy-duty solenoid, you also need a heavy-duty metal housing; and this product certainly has it. It features a solid heavy-duty housing construction, black powder coating, shock-proof, corrosion-resistant, sealed, and durable.
Finally, this product offers a one-year warranty. While this may not seem much, you have to consider that this solenoid will surely last you a long time without any issues. It is heavily protected with its housing, so any weather-related issues shouldn't be a problem. It is also shockproof, so any delicate components inside will remain undisturbed. 
If you do encounter any problems, feel free to contact their customer support anytime. They are friendly, and they are willing to assist you with any questions you might have.
Kemimoto Winch Solenoid Relay Contactor 12V 250A for 4×4 ATV UTV, Winch Solenoid with 6 Protecting Caps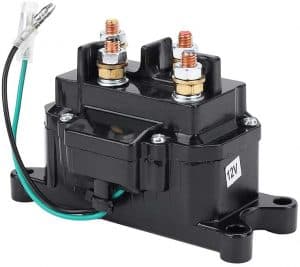 If you want an all-around solenoid, then look no further than this product. It's as simple as it gets, and it is compatible with different kinds of winches models and brands. UTVs, ATVs, 4×4 vehicles, 12v trailers, and many more!
Installation instructions are fairly simple. Plus, they have also added some color-coated wires to make it even easier to install. Green and black wires go to the switch that controls In and Out on a winch. Black and red wires go to the battery, and blue and yellow go to the motor. If there is anything that might confuse you, simply refer to the manual. It is all there laid out for you.
It features a robust and corrosion-resistant construction. Not only the housing itself, but the contactor is likewise corrosion-resistance. Its simple to install, durable, and compatible with many winches. What more can you ask for?
Tips: Solenoid Mounting
There are two ways you can mount a solenoid. You can either mount it on top of the winch or within a remote place in the vehicle—far from the winch. Both of these methods have their advantages and disadvantages.
If the solenoid is mounted on the winch, you have a simpler mounting design. This includes less wiring and isn't pretty much as convoluted as having the solenoid mounted remotely. It eliminates the risks of the wires getting entangles, which may lead to a short circuit. 
Be that as it may, the solenoid is presented to the heat created by the winch motor. The solenoid is additionally more defenseless against the unforgiving weather conditions in this setup. So, having the solenoid sit on top of the winch may be simple, but it isn't good for your solenoid's longevity. 
If the solenoid is mounted distantly within the vehicle, it is protected constantly from both the elements and from the heat produced by the winch. Another advantage of distantly mounting the solenoid is it makes the winch more modest, more minimal, and simpler to introduce on a winch bumper. 
Nonetheless, the installation and the wiring may turn out to be dramatically more be difficult. A far-off solenoid mounting needs more electrical abilities to accomplish. You would need to be cautious with the wiring to avoid electrical issues.
What do you think of your recommendation? Is there something you would like to add? Any question, perhaps? Feel free to comment on them below! Also, we offer other guides and reviews as well that you might find intriguing.