If you are an off-road enthusiast yourself, you know that it is difficult to find the best tires for off-road. A lot of tires boast some impressive features, but in reality, they are nothing but a paper tiger.
They all seem to work fine at first, but their tread wear isn't the best. So what you need is a tire company that is tried and true. Among those companies, General Grabber is one of the best options available for you.
General Grabber is a company known for its high-quality yet affordable price. From everyday tires to off-road tires, they have offered a lot of products. However, they are most well-known for their off-road tires. One of those said tires is the AT2 and the AT3.
They are one of the best-selling off-road tires in the market.  We are going to take a look at each of the tires and see how well they perform off-road.
General Grabber AT2
First up on our list is the General Grabber AT2. The General Grabber AT2 features impressive all-terrain traction, capable of handling mud, sand, and rocky terrain. It also has a unique studded thread design that allows it through traverse snow quite easily. Of course, for areas with extreme winter conditions, a dedicated winter tire is a must. 
The tire is for SUVs, ATVs, UTVs, and pickup trucks. Not only is this tire capable of off-road, but it likewise provides an easy and comfy ride. It's not like other tires where it sacrifices comfort for utility. Why not just have the best of both worlds?
The tire's tread configuration General Grabber made reduces the risks of chips and cuts, coupled with the unique tread pattern, and you have yourself a tire that can gain traction no matter the terrain. 
When it comes to the off-road market, grip and traction are everything, For General Grabber to achieve superiority over other tire models, they further reinforced the tire. They added tread blocks with some additional traction edges with multiple sipes around them, and this helps the tire gain more traction in snow, slush, and mud. 
When it comes to off-road tires, there is no such thing as overkill features. These features are what make this tire standout among all other tires, and I must say, they have perfected it.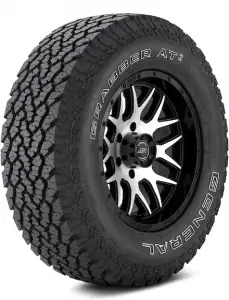 The AT2 tire allows for the installation of metallic studs, and this further enhances the tire's capability of snow traction and even managing the worst snowstorms. Even without the studs, the tire is capable of handling snow. But in extreme snow conditions, I would not recommend it. 
With all of these features, does this tire sacrifice comfort for utility? Surprisingly, no! The tire is very quiet, and it does not vibrate too much either. On top of that, I want you to take a deep look at this tire, doesn't the design mesmerizes you? It's very aggressive, isn't it? 
So with all of its features, how does this tire stay relatively quiet? It all has to do with its multi-tread block sizes and carefully computer-optimized acoustic tread pattern. Together, they ensure that vibrations and sound are always on low volume. Even barely noticeable in most cases. However, when it comes to highway speeds, the noise is noticeable, but for the most part, it's tolerable. 
Within the thread, you can find a two-ply polyester cord body and two steel belts. Together, they are the foundation of this tire's impressive durability, while also maintaining the comfort, utility, and tread lifespan. General Grabber guarantees you that this tire model will last you long, which is why they added a 60,000-mile tread warranty. It will be hard to find other tires that offer as much warranty as this tire.
The only thing I have against this tire would be its lack of wet road traction. So whenever it rains, don't try your luck with this tire.
General Grabber AT3
The General Grabber AT3 is just a newer version of the General Grabber AT2. In this newer version, General Grabber has made some minor improvements and fixed some issues that were in the previous versions.
The features that were in the General Grabber AT2 are still there, but with minor improvements. This tire is an all-terrain tire, capable of handling sand, mud, and snow. This time, however, the AT3 has made some improvements for extreme winter conditions. Even without the metal studs, this tire is very capable of handling the worst of snowstorms. No need to switch to winter tires, all you need is the AT3.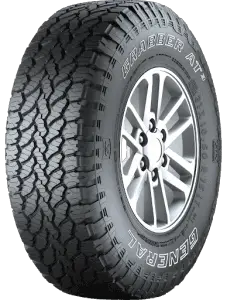 They have made some improvements to the tread design as well. They have introduced a new open tread shoulder design that achieves exceptional off-road traction through gripping edges that interlink with loose terrain. This same design ensures dynamic self-cleaning performance for added grip in mud.
They have also improvised the block geometry by making it more evenly distributed. They achieved this process by using computer simulations to have accurate data. As a result, they made the tire quieter and lesser vibrations too. One of the main weaknesses of the AT2 is its on-road noise at highway speeds. I am glad that they have fixed this issue this time. 
Lastly, the greatest improvement they made is the wet-road traction. The previous model didn't offer much in wet-traction, however, the AT3 is very impressive on this part. 
However, even the AT3 is not perfect. Despite all its improvements, it has one major weakness. Its sidewall strength wasn't that impressive. For its time, the AT2 sports one of the strongest sidewalls, but on the AT3, they haven't made any major improvements. So when you compare it to its competition, it falls far behind.
Conclusion
If you are looking for off-road tires, I would recommend both of these options. However, I would rather you pick the AT2 rather than the AT3. There are only small differences between the two, plus, the AT2 is cheaper than the AT3.
Here at WinchMania, we want to offer you the best reviews for the money. If you want to take a look at some of our reviews, please check the following: