Perhaps the winch accessory that is most exposed to damaging elements is the winch line. Whether you use a synthetic rope or a steel cable wire, your line is not protected from getting damaged by the pressure of the load, small debris, and the heat generated by the winch drum during operation. Over time, you will definitely need a new cable winch replacement.
What to Consider for your Next Winch Cable
Because there are such a lot of brands and a lot of winch cable products all vying for your attention, it might sometimes be hard to separate the best from the mediocre. Another factor that makes this process challenging is that there are so many factors that can contribute to the damages your rope may sustain. 
Not all ropes are made to handle each potential damage. But there are those that are just so tough that they can be relied on for all situations.
That is perhaps the most important factor to consider: is this winch line durable enough to last long even when used vigorously?
Another important factor is your budget. This factor can only be determined by you. You should be aware, though, that quality winch cables need not be expensive. In fact, there are a lot of really good items from exceptional brands that are near, or equal, to the quality of the more expensive products.
In this article, some items listed will be more affordable, while others will be more pricey. All of them are very viable options for your next cable winch replacement.
The last factor to consider is whether you want a synthetic rope or a steel wire cable. This is decided based on your own personal preference. If you have been using a winch fro some time, chances are you already got a preference. But if you are new to this, then you might want to check  our in-depth guide here.
The Best Options for your Next Cable Winch Replacement
Fulton WC325 0100 Winch Cable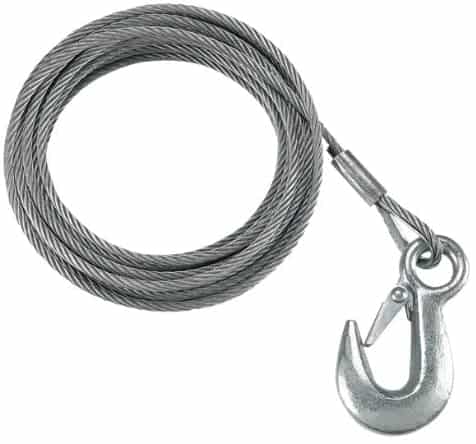 The first item on the list is a steel wire cable, but for synthetic rope people, there will be options for you too.
This item is 25 feet long of 3/16 inch diameter galvanized cable. In my experience, galvanized cables is as strong as steel wire cables go. This specific item has a breaking strength of 4,200 lbs. It is perfect for smaller trucks and is absolutely more than capable of handling ATVs or UTVs.
The product has a 5 year warranty. While steel wire cables can definitely last longer than that, it is good to have a warranty to fall back on. Since this is a steel wire cable, I would suggest that you use a dampener with it in case you overload it and it breaks during operation. If you don't understand why a dampener is a necessary equipment with steel wire cables, you will understand it in the explanation of differences between synthetic and steel ropes.
The only drawback I see in this product is that it has no eye loops. While it is still easy to install winch lines, some people prefer ropes with eye loops for easier installation. If you want a step by step tutorial of how to replace your winch cable, you can check out our guide here.
Overall, this cable is straightforwardly simple. It is tough, it is affordable and it comes with a handy strong hook. This can perfectly serve you for some years of winching.
PROS
Extremely tough
Perfect for small trucks or ATVs/UTVs
Comes with a hook
CONS
Ucreative Synthetic Winch Line U-WL-156B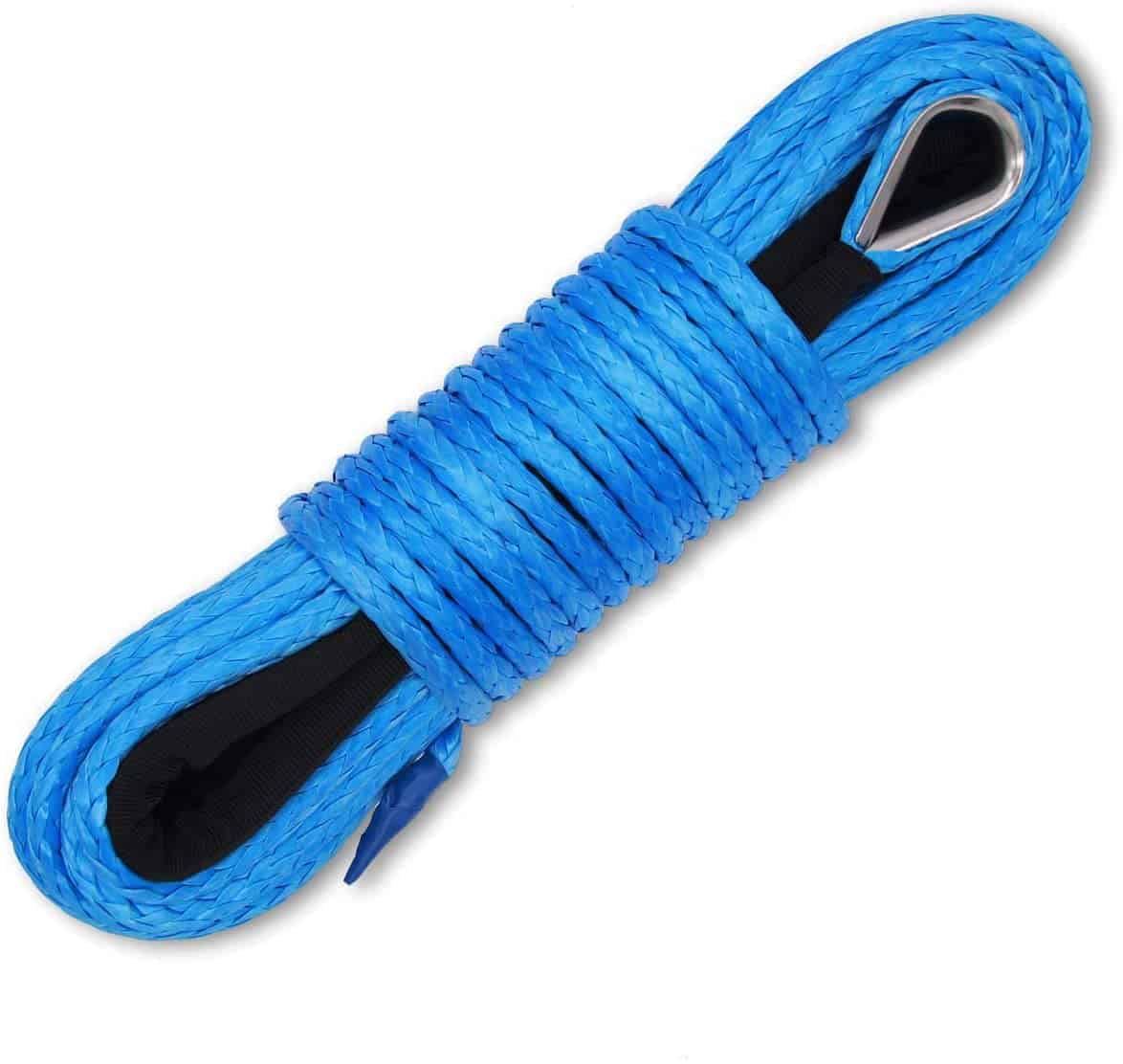 This is a synthetic rope. It has a stronger breaking strength than that of the previous item. This has a breaking strength of 7700 lbs. It has a diameter of a fourth of an inch. It is 50 feet long and can float in water.
What really excites me about this product is how affordable it is. Normally, synthetic ropes are a lot more expensive than steel wire cables.
Perhaps this is very affordable because it does not have the general protection most synthetic ropes have. It is not protected from heat, as far as I can tell. It does have a protective sleeve, but only 5 feet of it. However, it does have UV and chemical resistance.
Another thing that bums me out about this rope is that it can easily be damaged by traditional fairleads. The fairlead has to have rounded edges. If you need more info on how to choose fairleads, you should see this guide.
With this line, you can get the most out of your money. It is strong, it is quite durable and it reduces the weight you have to handle with your winch. Just make sure that you take extra care of it, and it can be sure to last a long time.
PROS
Very strong
Comes with an eye loop
Very affordable
CONS
FieryRed Synthetic Winch Rope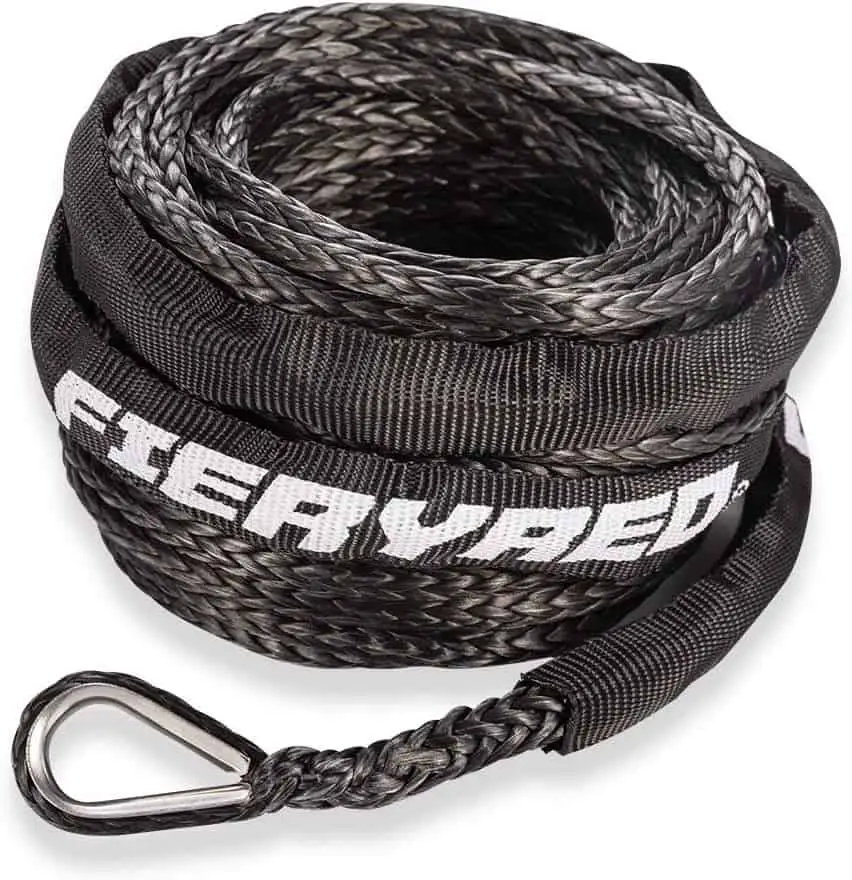 Here is another synthetic rope. This is from a brand quite well known. This FieryRed synthetic rope is fifty feet long, with a diameter of 3/16 inches. Though it has the same dimensions as the previous synthetic rope product, this one can hold more weight.
This polyethylene rope can hold up to 8200 lbs of weight. It is made with 12 strands of heat-treated material. Perhaps the reason why this is a lot more expensive than the previous item is because this is actually a lot more durable.
It is UV treated, coated with high temperature urethane, and it has a 5 feet ballistic nylon protective sleeve which slides. Also in the package are included a hook and a connector link. A unique feature of this line is its automatic tightening. I don't really know how it works, but it essentially secures itself on the winch drum. It is very hard for it to slip off.
The rope is a Dyneema rope and it has eye loops on both ends. This is the type of rope that is worth every penny. It is strong, it is durable. And it is very easy to install and use.
PROS
Very strong
Comes with an eye loops on both ends
Highly durable
CONS
B/A Products 4-38PS50LH Steel Winch Cable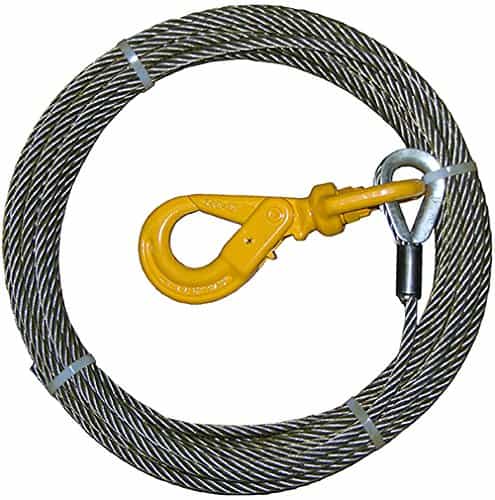 We now have a steel wire cable again. This time, it can handle loads of up to 3700 lbs. This winch cable is 50 feet long. It has a diameter of 3/8 inch and it includes an eye loop and a swivel latch hook. As far as steel cable wires go, this has pretty much a complete package.
This is very easy to install. It is very strong. It is highly durable and is very safe to use with its high quality hook. Granted, it is very pricey. That is the price to pay for quality, I guess. If you are the type of person who trusts proven brands, then you can easily pay for this winch cable.
PROS
Very strong
Comes with an eye loops on both ends
Swivel latch hook is included
Highly durable
CONS
HOOAI Synthetic Winch Rope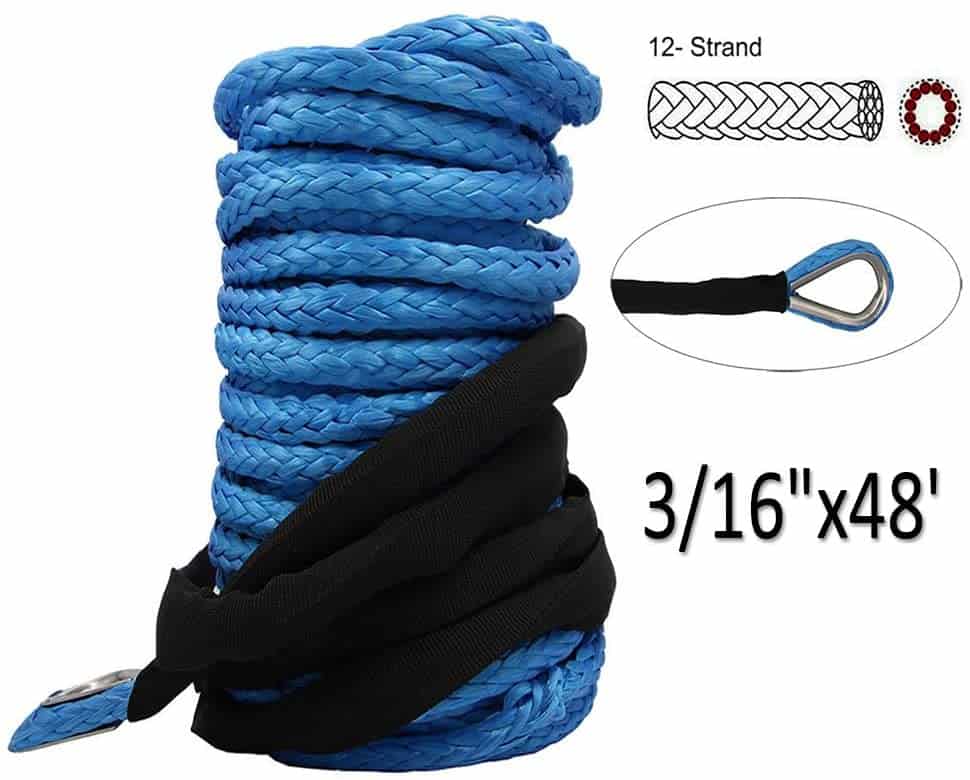 Here is another synthetic rope option. This one is quite strong, durable and is very easy to handle. This is another affordable option, but I am sure that it is more valuable than what it costs.
This is a 48 foot long rope. It has a diameter of 3/16 inch. It has a load capacity of up to 6000 lbs.  It has a nylon eye loop for attaching a hook. It has a 1.55 meter long protective sleeve. And what I find very reassuring is the 1.55m heat proof cable, which you can use as the first layer of wrapping around your winch drum.
HOOAI offers a 90 day carefree return option for those who aren't pleased with it. But I'm telling you, this is as good a winch synthetic rope as can be. It is also backed by a lifetime warranty against any and all manufacturing defects.
This synthetic rope is as good as can be purchased at its price point. This is one of the best options you have for your ATV, UTV, SUV, truck or boat winch.
PROS
Very strong
Comes with an eye loops on both ends
Swivel latch hook is included
Highly durable
CONS
The Final Word
Given with all of these useful information about different options for a cable winch replacement, you can make your own decision as to which to buy. Depending on your preferences, your needs and your budget, you can find a viable option here.
You can see the prices of the products listed here, and you can see what their consumers think of them by clicking on the links provided. Although the information provided in those are not so different from what I have provided, it will give you more info to make your final decision. That's the thing that matters the most, for you to decide for your own.
Do you have any questions? Or are there other items you think should make the list? Write them down in the comment section below.