A blizzard is perhaps one of the most stressing weather conditions for any sane person. There you are, stuck at home, freezing to death, and outside, there is no sunshine, no visibility – just… gray. Unrelenting, opaque, unforgiving gray. But once the storm passes, you are excited to get back out to the wide, beautiful world. Except that everything is covered in snow.
Fortunately, there are tools that makes taking snow off the roads easy. Snow plows are wonderful tools – they help take snow off of where they don't belong. One of the best snow plow companies in the business is Snowbear. And although easy to use as they are, using them with a winch makes them all the more easier and more efficient to operate.
I have seen others use a trusty Snowbear plow with a winch, and it got me thinking, "What is the best winch for Snowbear plows?"
Snow Plowing with an ATV Winch
One of the easiest way to plow snow away is on an ATV. These vehicles are easy to maneuver in such a terrain, they are quick and they are powerful. This is why for this guide, I will focus on the ATV winches that works well with a Snowbear plow.
Warn ProVantage 3500-S Winch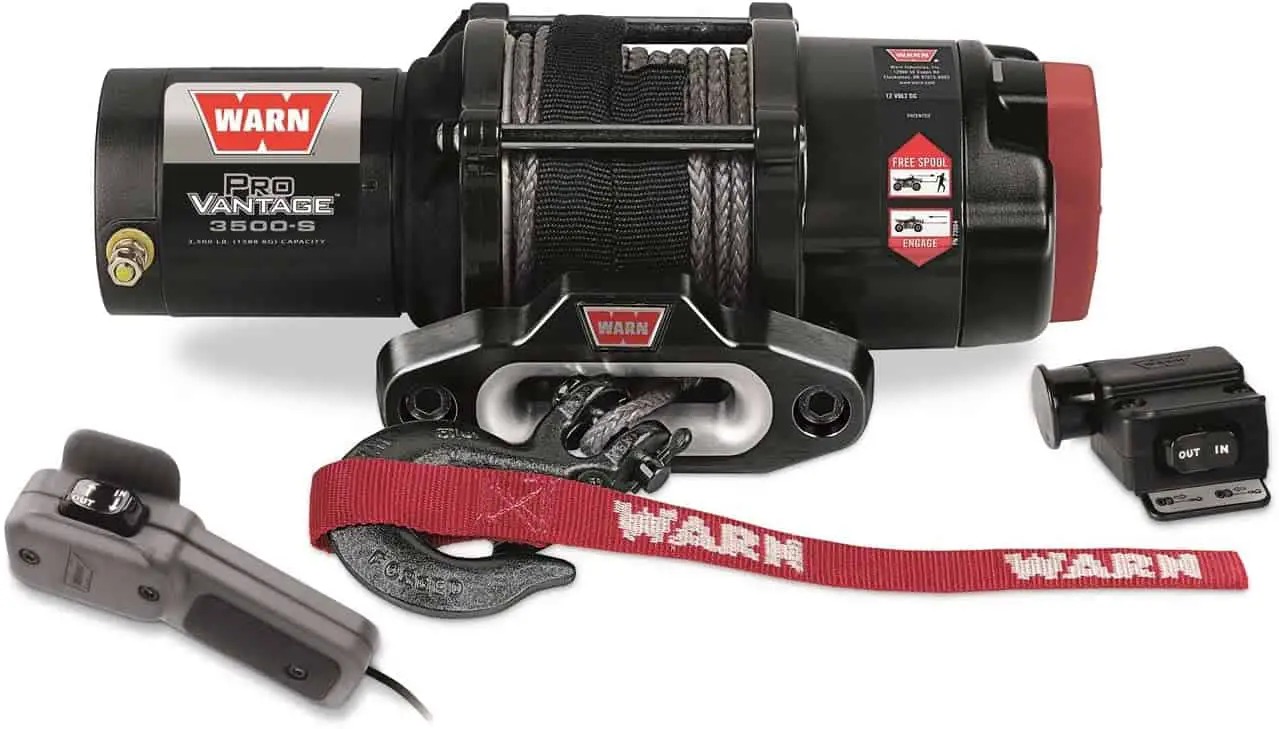 There is no doubt about it, Warn is one of the best winch brands to have ever existed in the history of winches. And there is also no doubt that Warn's ProVantage series is one of their best winch lineup. The winches in this series are extremely reliable – even in plowing off snow with your favorite Snowbear plow.
This electric winch has a maximum load capacity of 3500 lbs. That is more than enough to clear your driveway and street of snow. It has a 3/16" synthetic rope that is 50 feet long. Of course, if you prefer steel wire cable for your winch line, Warn ProVantage 3500 also offers that.
This model is equipped with a number of features that make it more efficient – a double powder coated hawse fairlead, a smooth 3 stage planetary gear system, a roller disc brake, a fully sealed, weather resistant motor and a corded remote controller and mini-rocker control system.
Even in snow, you can easily rely on this winch to work off the snow with incredible efficiency.
You will also get a durable hook, some tire rods, a corrosion resistant body, an easy-to-the-touch handle and a fairlead plate. For your next snow plowing project, you will get pretty much everything you need with this winch – except of course, the reliable Snowbear plow itself.
While certainly not easily affordable, peace of mind is what you get from this winch. It is very effective in making sure that your snow plow gets its job done efficiently.
PROS
3500 lbs weight capacity

Weather resistant motor and a fully sealed winch; good for plowing snow

Durable and efficient

Comes with winching kit perfect for snow plowing
CONS
Superwinch 1145220 Terra 45 ATV and Utility Winch 
Superwinch is another of those easily recognizable winch brands in the market. The good thing about this well-known brand is that it is not as costly as Warn products.
What I really like about this winch is that it has a very good sealing. That of course is very handy when it comes to plowing snow. The winch is rated at 4500 lbs of maximum load capacity, I doubt that snow will strain that power.
It is equipped with a three stage planetary gear system, which makes it efficient, and add to that some oil pocket bronze bearings – you've got yourself an easy to maintain and operate winch. It comes with a 1.6 horsepower engine with a low amp draw. It uses a durable synthetic rope that is 1/4" in diameter and 55 feet long.
Its body is corrosion resistant – which is a feature I would prefer on a winch I'd use out in the snow. And it is weather resistant.
In short, using this winch on your ATV to plow off snow with a Snowbear plow, you are guaranteed power, efficiency and durability. You can plow more snow, for a longer period of time, and without damaging your equipment.
Although the installation of this unit is fairly simple, the instruction manual is not really helpful. It seems that it confuses more than clarifies the process. But aside from that, I have no problem with the build, the performance and its ability to be used with a Snowbear plow. I totally recommend this.
PROS
4500 lbs weight capacity

Weather sealed and corrosion resistant

Powerful and efficient

Very durable
CONS
Manual is not really helpful
Superwinch 1130220 LT3000ATV Winch
Another Superwinch model, this time, with less muscle. If you don't experience extremely heavy snowfalls, then I suggest you opt for this instead of the stronger version, purely for budgetary reasons.
This one can also be perfectly fitted on your ATV. It has a pulling strength of up to 3000 lbs, which is enough to be able to plow snow off your driveway. It is compact, quiet and is highly versatile.
It rocks a rugged three stage planetary gear train and a 1.2 HP permanent magnet motor with low amp draw. It is equipped with 50 feet of durable 3/16" steel cable wire. There is no synthetic rope option for this, so that is a drawback for me; I prefer synthetic rope over steel wire cable. But if you have no beef with that, then good for you.
A four way roller fairlead, a hand held remote with 12 feet lead, a mounting plate, a handlebar mounted rocker switch and a hook come with the winch. And it rocks both a mechanical and dynamic brake, so your safety is guaranteed.
The winch is very well sealed. It is perfectly fine to be used in snow. But if yours ever fail, which I highly doubt will happen, it is backed by a two year limited warranty.
Overall, this model is a very cost effective option. Its price is very reasonable, quality is not compromised, and it does the job of plowing snow in conjunction with a Snowbear plow amazingly.
PROS
3000 lbs rated capacity

Compact, quiet, rugged and efficient

Sealed – can be used even in extreme weather conditions
CONS
Solenoid mounting hardware is not included
Bulldog Winch 15021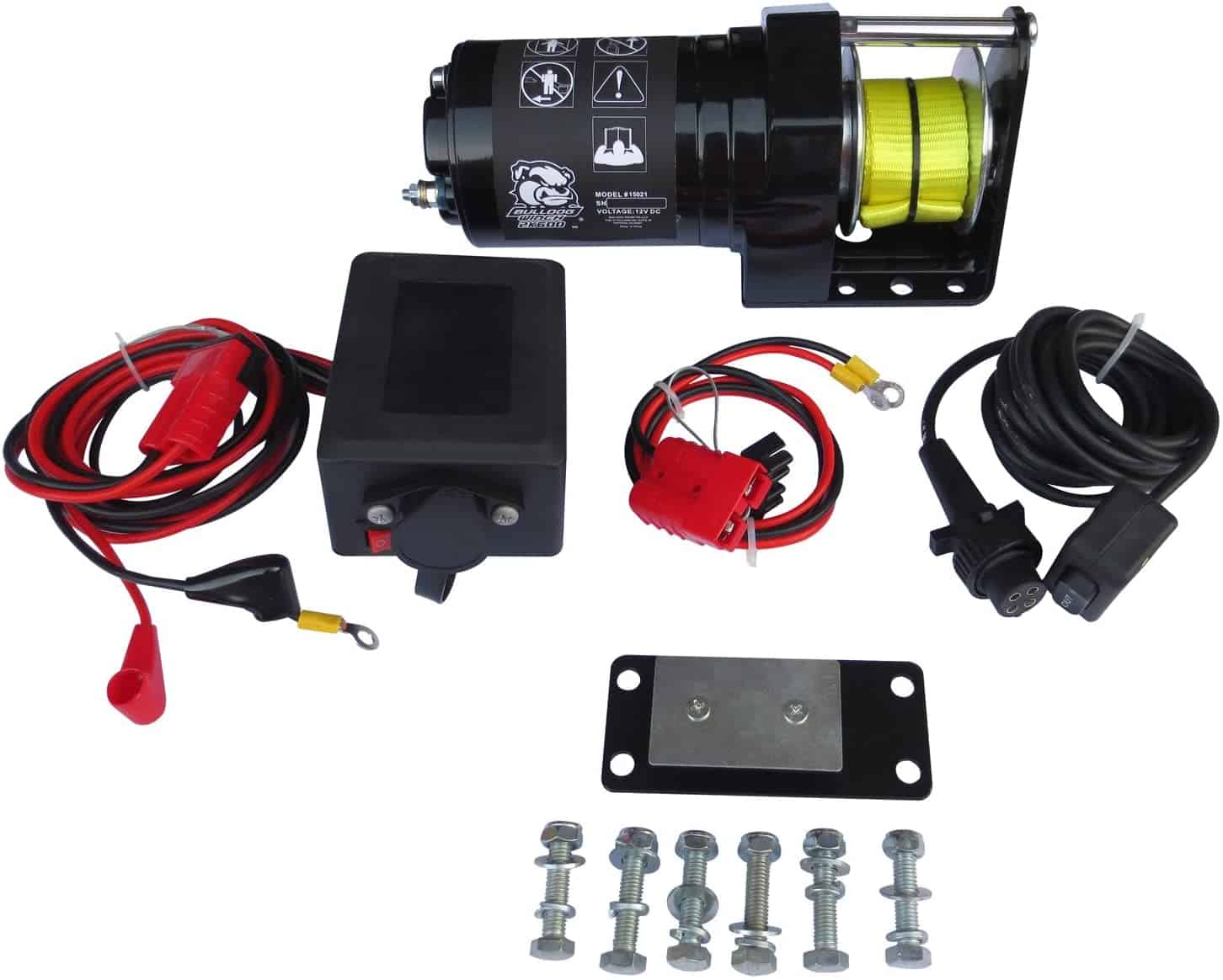 Here is a more budget-friendly option – but still perfectly suitable for snow plowing with a Snowbear. This one only has a rated line pull of 600 lbs. While that doesn't sound like much, it is still capable of clearing off the snow.
This one comes with both steel wire and synthetic rope options. It is perfectly suitable for an ATV. It is very durable for its price, and works wonderfully, too! What I really like about this winch, and the brand, is the caring customer service. Although installation is easy enough, you can always count on a helpful agent from the company who will guide you through it should you need help installing.
As far as I'm concerned, this winch is well worth its price.
PROS
Perfectly suitable for snow plowing

Very affordable

Very easy to use
CONS
Wiring installation can be made easier
How to Choose a Winch for Your Snowbear Plow
The first thing I look for in a winch is its strength. That is where I always begin – always. Make sure that the winch has enough pull capacity to be able to do the specific task you want it to, in this case, plowing snow.
For that purpose, I would say that anything above 500 lbs pulling capacity is enough. But if your plowing equipment is very heavy, then a stronger winch may be required.
The next factor I consider is whether the winch is suitable for use in snow. This means looking for features like weather resistance, sealed motor and solenoid, corrosion resistance and maybe some waterproofing.
The next thing I would look for is the type of winch line that can be used for the winch. I really prefer a synthetic rope, but I know that steel wire cables are more resilient to extreme temperatures, so they might be better for snow plowing applications.
However, if you don't have any knowledge about this topic, then you wouldn't have much of a preference. I suggest you check our very informative article about synthetic ropes and steel cables.
The Best Winch for Snowbear Plow
The best winch for a Snowbear plow is a subjective topic. Each person will have a different opinion – opinions based on their preferences. But I can assure you, the items listed in this review are very suitable for snow plowing with your Snowbear plow – or other snow plows you have.
If you have no experience in using a winch, then maybe you should first read these two articles. They discuss, in detail, how to operate a winch and how to make sure that you use your winch safely.
Do you have thoughts, questions or suggestions regarding what you know are the best winch for a Snowbear plow? Please share them below in the comment section. I'd love to hear your thoughts.