A winch mounting plate is one of the most fundamental parts of the winch. It is actually foundational, like literally. It serves as the foundation of the winch. And just like any good foundation, it should be tough and uncompromisingly stable.
In this article we are examining winch mounting plates that can be used to provide support for the Badland 2500 lb winch.
KFI Products 101285 Winch Mount (B018NQ47Z6)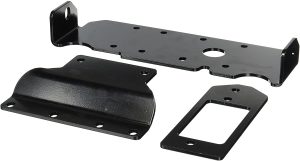 KFI Products is one of the best brands when it comes to winch accessories. Fortunately, their mounting plates are on par with their usual quality.
This winch mount is suitable for UTV and ATV use. It can definitely handle the Badland 2500 lb winch. It is made of a 3/16 inch thick steel. It is powder coated, so it is protected from corrosion and rusting.
A very good thing about this mounting plate is that it comes with an exhaustive installation manual. Now that may not be very impressive, generally, but there is just a lot of off road products that do not come with a clear, understandable and simple installation guide or how to use manual. Along with the installation manual is also included the full set of mounting hardware necessary.
The mounting plate can work with many winch models, including the Badland 2500 winch. Overall, this winch mounting plate does well in terms of strength, durability and ease of installation. The only problem with this winch mount is that it might require you to get a fairlead with a 4.875" bolt pattern.
Pros
Cons
ü Very strong and durable

ü Very easy to install

ü Can fit many winch models including the Badland 2500

ₓ You might need to get a different fairlead to make it work
KFI 10-2175 Winch Mounting Plate (B07RG6L3MR)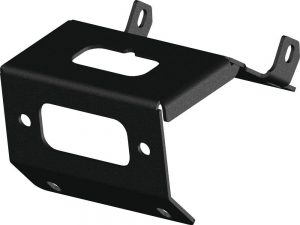 Here is another KFI winch mounting plate. This particular winch plate model has pretty much the same features as the previous model discussed. The only difference it has is its look, pretty much.
Of course, a different look can also affect how it fits. So far, it seems that this model's problem is that it comes with bolts that are a tad short. That problem can easily be remedied, but it would have been better if the included bolts are of the perfect size to make installing this mounting plate easier.
Pros
Cons

Very strong and durable
Very easy to install
Has a more compact design

The included bolts may be a little short for the perfect installation
These KFI products are perfect Badland 2500 winch mounting plates. They are tough, very easy to install and provide a highly stable foundation for a Badland 2500 lb winch. And even if your winch is not a Badland, these winch mount plates are compatible with a lot of winches chances are, your winch may be perfect with any of these two plates.
What other winch plates do you think are perfect for the Badland 2500 lb winch? Do you think either the two in out list are good options? Let us know in the comments section!
There are a lot of informative and helpful guides in the site. Here are some of our most educational articles.